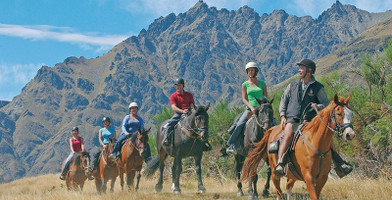 TSS Earnslaw Cruise and Walter Peak Horse Trek
Join us to saddle up for a New Zealand horse riding trek around Walter Peak High Country Farm to follow up your delightful cruise aboard the TSS Earnslaw.
Highlights
Return cruise across Lake Wakatipu
Queenstown's iconic vintage steamship
Spectacular Queenstown alpine scenery
Freshly baked morning or afternoon included
40 minute leisurely guided horse trek
Suitable for all riding abilities
What you need to know
Add on some extra adventure to your TSS Earnslaw cruise and visit to Walter Peak Country Farm by jumping in the saddle for a horse riding tour of the area - the truly traditional way to explore! Whilst saddled up you'll be taken by an experienced and friendly guide across the rolling farm terraces to a lookout that will provide you with some outstanding views of both the surrounding mountains and Lake Wakatipu itself. Riders of all levels - from first-timers to veterans - will be able to take part as it is suitable for the inexperienced and lasts for approximately forty minutes.
Upon returning to the Colonel's Homestead and stable the horses, you'll take the time to enjoy a traditional morning or afternoon tea of freshly baked scones, cakes and slices, tea, coffee and fruit juice. All necessary safety equipment is provided along with, if necessary, wet weather clothing to ensure that the experience is unspoilt no matter the situation.
More info
Inclusions
Return scenic cruise from Queenstown to Walter Peak on the vintage steamship, TSS Earnslaw
Morning or afternoon tea including scones, cakes and slices freshly baked at the farm
Small group, personalised guided 40 minute horse trek
Horses saddles, bridles and riding helmets provided
Highlights
Return cruise across Lake Wakatipu aboard the TSS Earnslaw
Explore the vessel and view the engine room of the iconic-century old steamship
Expert commentary from the Captain
Guided tours of the vessel are available
Food and drinks available from the onboard cafe and licensed bar
Small group, personalised guided 40 minute horse trek
Ride along a peninsular trail providing views of Lake Wakatipu and the surrounding mountains
Suitable for all abilities including first-time riders
Time
Tours depart from the Earnslaw Visitor Centre, Steamer Wharf, Queenstown daily at 12pm and 2pm (October to April only)
Please ensure you check-in at least 15 minutes prior to departure
Parking in Summer months can be challenging, please ensure you allow ample time to park your car and check in for your departure
All vouchers must be exchanged for boarding passes prior to boarding
What To Bring
Non-slip shoes/boots
Warm clothing/jacket
Sunscreen/sunglasses
Camera
Additional Information
Suitable for riders of all abilities, including first-time riders
Safety helmets and wet weather clothing are provided
There is a minimum age of 7 years
There is a minimum height of 120cm
There is a maximum weight of 100kg
Booking Information
Confirmation in the form of a tour voucher will be received at time of booking
Upon completion of purchase, please print the voucher and present on day of the experience
Mobile Vouchers are accepted! - Vouchers can also be presented on your mobile device for this attraction
For your information, complete Tour Operator Information including contact details is included on your tour voucher
Cruise vessel subject to change without notice
Availability was accurate at the time of booking however, is subject to change due to circumstances out of our control
We strongly suggest reconfirming your booking with the tour operator within 24 hours of making your booking and prior to making other travel arrangements
Prices are seasonal and are constantly changing. The from price displayed may not always be the price you are going to pay, as once you click on your specified date, the price will change to reflect the price for that date/season. Please note that in some cases where you cannot click on a date to obtain the price, please call us so we can assist you
Important notice
Confirmation in the form of an e-voucher will be sent to your email at the time of purchase. Although we do our best to deliver it instantly, occasionally, this may take up to 6 hours for the e-voucher to be delivered. For any queries, please get in touch with us . We're always happy to help.