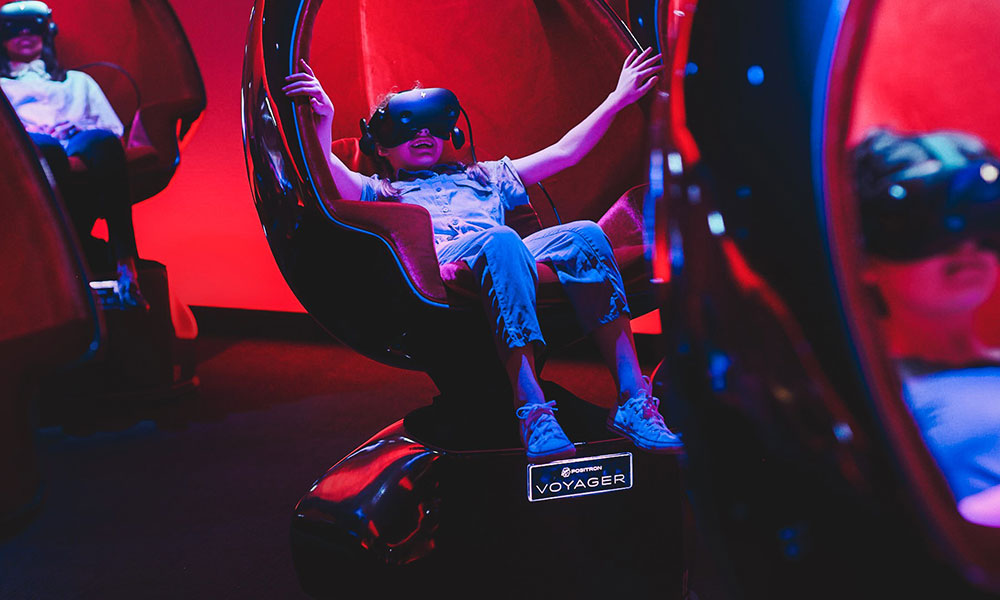 Melbourne Skydeck Voyager Experience
Book tickets online here to visit the Melbourne Skydeck plus watch the stories of the city brought to life in the Voyager Theatre Virtual Reality pods.
Highlights
Experience Melbourne's highest viewing attraction
Melbourne on another level
The All-new Virtual Reality Voyager® Theatre
The immersive sensory experience
360-degree cinematic journey, travelling through 16 iconic Melbourne experiences
An exceptional VR experience that's the largest of its kind
What you need to know
Purchase your Melbourne Skydeck tickets online here to visit the highest observation deck in the Southern Hemisphere and enjoy the immersive Voyager Theatre virtual reality experience that brings the stories of Melbourne to life. Located in the heart of Melbourne, visitors can experience legendary 360-degree views up on level 88.
To enhance your visit to Melbourne Skydeck, step inside the unique Voyager Theatre virtual reality pods for a sensory journey showcasing 16 Melbourne icons. The stories of the Victorian capital city come to life in this super 8K definition and 6D experience over 11 spectacular minutes and is set to a bespoke soundtrack featuring local legends, The Cat Empire.
To experience Melbourne on another level, book tickets for this combined Melbourne Skydeck and Voyager Theatre Experience online here.
More info
Inclusions
Skydeck Entry Admission
Virtual Reality Voyager Theatre
Itinerary
Skydeck Admission
At Skydeck, the Southern Hemisphere's highest viewing attraction, the City of Melbourne comes alive in front of your eyes from nearly 300 metres high.
Voyager Experience
The Melbourne Skydeck Voyager Theatre features 24 multi-sensory 6D pod chairs that take you on an immersive journey of discovery through 16 iconic Melbourne experiences.
Operating Hours
Open 7 days, 12:00pm to 10:00pm
Please note: Melbourne Skydeck will be CLOSED Christmas Day and closed from 5pm on New Year's Eve for our NYE event.
Opening hours may differ throughout the year, please check our website for details.
Duration
Melbourne Skydeck is a self-guided experience. The average visit time is up to 2 hours however we recommend you allow additional time to enjoy the optional experiences.
Additional Information
Parking is available directly beneath Melbourne Skydeck in the Wilson Eureka Carpark* on the corner of City Road and Southgate Avenue (enter from Southgate Avenue). Discounted flat rate parking is available for all guests of Melbourne Skydeck and Eureka 89.
Booking Information
Confirmation in the form of a tour voucher will be received at time of booking
Upon completion of purchase, please print the voucher and present on day of the experience
Vouchers can also be presented on your mobile device for this attraction
Availability was accurate at the time of booking however, is subject to change due to circumstances out of our control
For your information, complete Tour Operator Information including contact details is included on your tour voucher
We strongly suggest reconfirming your booking with the tour operator within 24 hours of making your booking and prior to making other travel arrangements
We are unable to guarantee that all Skydeck Experiences will be in operation every day. Operation of the Edge may occasionally be suspended due to extreme wind or severe weather conditions and will be at the absolute discretion of management.
Important notice
Confirmation in the form of an e-voucher will be sent to your email at the time of purchase. Although we do our best to deliver it instantly, occasionally, this may take up to 6 hours for the e-voucher to be delivered. For any queries, please get in touch with us . We're always happy to help.