When planning your QLD school holidays 2023, imagine the thrill of experiencing the best waterfalls in Queensland with your family!
From the country's tallest waterfall to many stunning cascades and refreshing swimming holes, you'll discover some of the best Australian waterfalls, all waiting for you in Queensland. Let's dive in!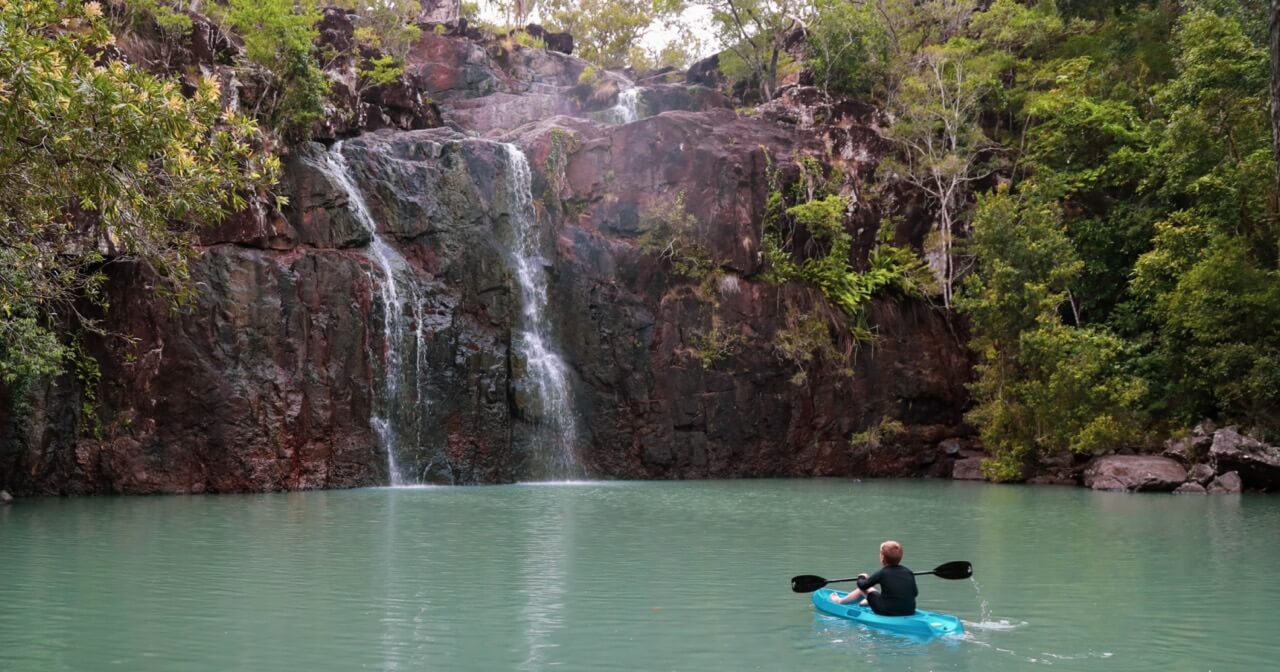 ---
Some of the best waterfalls in Queensland for family adventures are:
| Best waterfalls in Australia | How tall is the waterfall? | Public Toilet | Entry Fee | Is it dog-friendly? |
| --- | --- | --- | --- | --- |
| Queen Mary Falls QLD | 40 m / 131 ft | Yes | Free entry | Dogs are not allowed |
| Purling Brook Falls QLD | 100 - 106 m / 328 -348 ft | Yes | Free entry | Dogs are not allowed |
| Wallaman falls QLD | 305 m / 1,001 ft | Yes | Free entry | Dogs are not allowed |
| Cedar Creek Falls QLD | 15 - 20 m / 49 - 66 ft | Yes | Free entry | Dog-friendly waterfall |
| Barron Falls QLD | 125 m / 410 ft | Yes | Free entry | Dogs are not allowed |
| Millaa Millaa Falls QLD | 18.3 m / 60 ft | Yes | Free entry | Dogs are not allowed |
| Josephine Falls QLD | 150 - 300 m / 492 - 984 ft | Yes | Free entry | Dogs are not allowed |
---
Cedar Creek Falls is a must-visit for families near Arlie Beach
When it comes to fun things to do in Airlie Beach for families, one of the most beautiful Australian waterfalls stands out as a must-visit destination.
Cedar Creek Falls is a small dog-friendly waterfall located in Cedar Creek Falls Reserve, Palm Grove, QLD 4800, just around a 30-minute to 1-hour drive from Airlie Beach, Queensland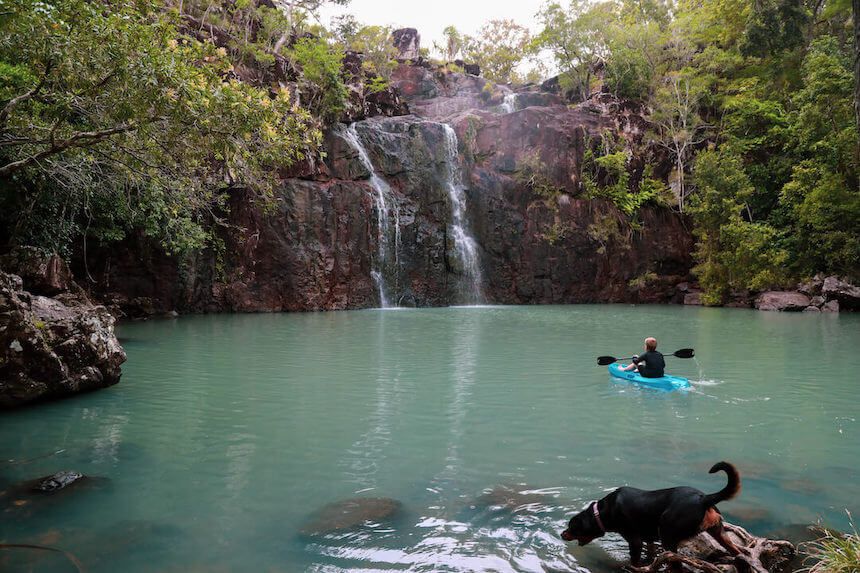 🏞️ Here's a fun fact for you! Don't miss another Cedar Creek Falls in Mt Tamborine, QLD 4272! It's just an hour's drive from Brisbane or the Gold Coast. And while you're there, check out these fantastic tours:
Things to know about Cedar Creek Falls near Arlie Beach:
Refreshing swimming hole

Stunning 50m walk to see the falls

Great outdoor activities for families: a lovely spot for a swim, pebble skip, a picnic in nature, and exploring the surrounding hiking trails

Rope-hanging swings for climbing up and jumping in the water

Kids can also feed the fish, turtles and prawns in there

One picnic table near the carpark

Public toilet and a picnic spot close to the waterfall

Limited free parking (it can get very busy on weekends and public holidays, so you might need to arrive early in the morning or visit this waterfall during the week)

Cedar Creek Falls is a dog-friendly waterfall, so don't forget your furry friend!
Please note that the waterfalls may not run during low rainfall season.
Cedar Creek Falls Walk:
The Cedar Creek Falls Walk from the carpark is easy and short (about 50 m to the waterfall), but it gets rocky near the waterfall area.
Rubber-based shoes will make it easier for kids to enter the water! Bring a repellent spray with you because there are lots of mosquitoes.
⭐🏞️  Ready for an outdoor adventure? Join the fantastic Cedar Creek Falls tour! Enjoy a guided eco-walk to the top, swim with the turtles and enjoy a delicious lunch.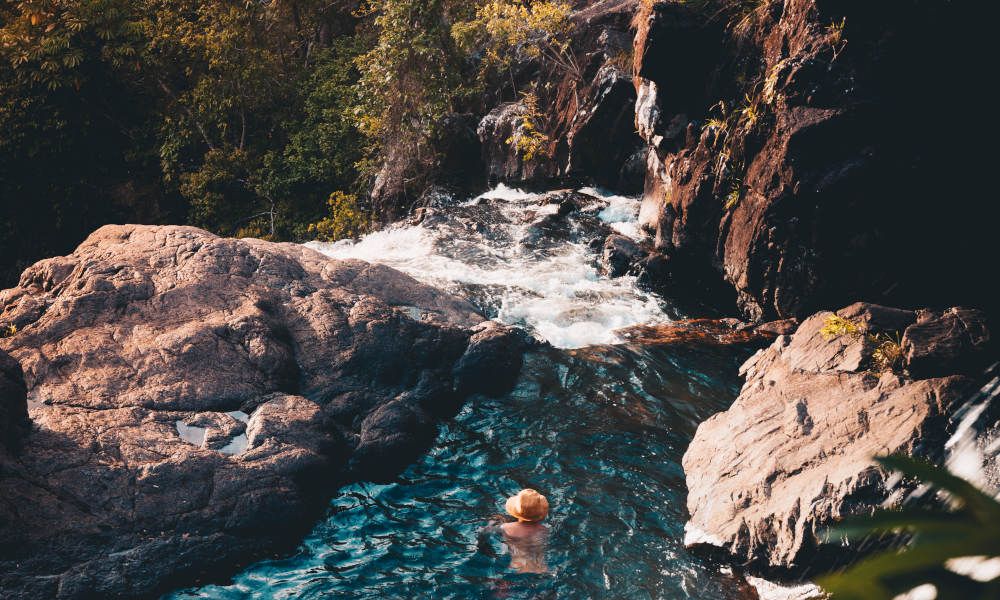 Cedar Creek Falls location:
---
Take a day trip to Queen Mary Falls - a must-see attraction in Queensland
Queen Mary Falls is a wonderful place to take the kids during the Brisbane school holidays to enjoy breathtaking views and get up close to nature!
The stunning Queen Mary Falls is located in the Main Range National Park, just a 2-hour drive from Brisbane.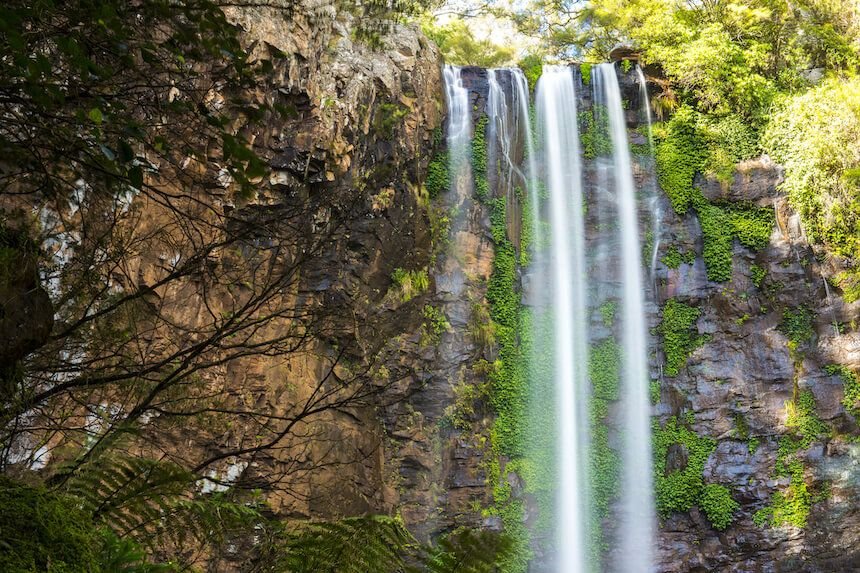 Outdoor activities at Queen Mary Falls:
Enjoy several charming bush walks

Get up close with local birds and kangaroos

Enjoy a fun-filled day of outdoor activities with your family

Have a peaceful picnic lunch at the Queen Mary Falls picnic grounds at Caravan Park

Try some delicious home-cooked meals at Queen Mary Falls Cafe

Hand-feed colourful parrots

Plenty of room for kicking a ball or throwing a Frisbee

Leave your pups at home, as dogs are not allowed at the park.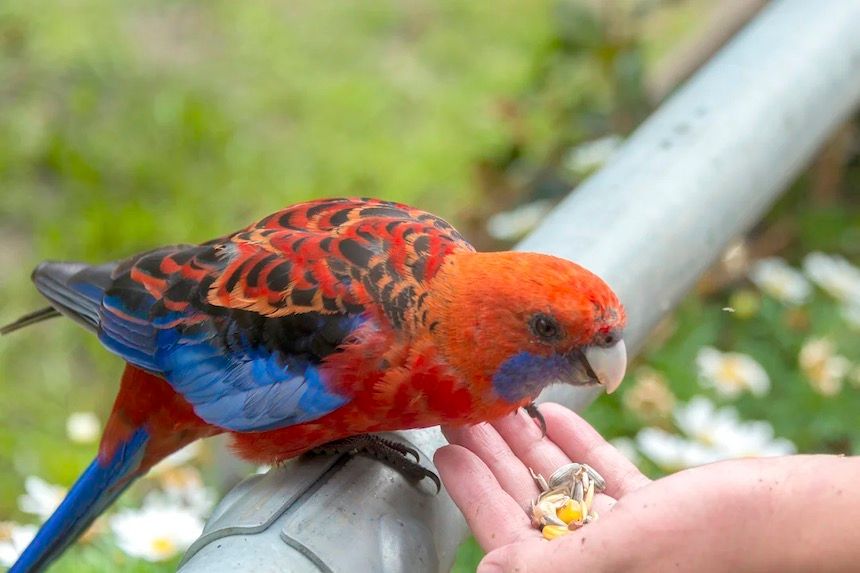 Queen Mary Falls Walk
There are several bush walks available. The Queen Mary Falls offers a relatively easy bush walk, so even young kids can do this hike!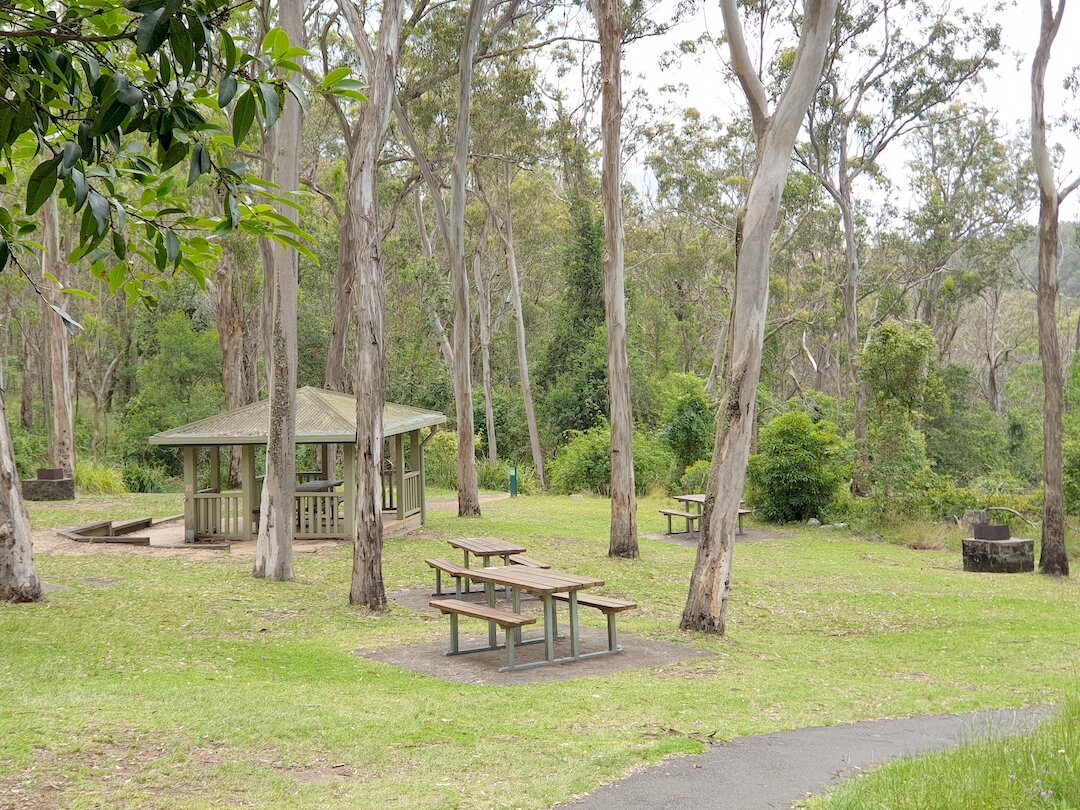 Queen Mary Falls feature:
Picnic tables and seating

Lots of natural shade from tall trees

Electric BBQs

Public toilets at the campground.
Queen Mary Falls map: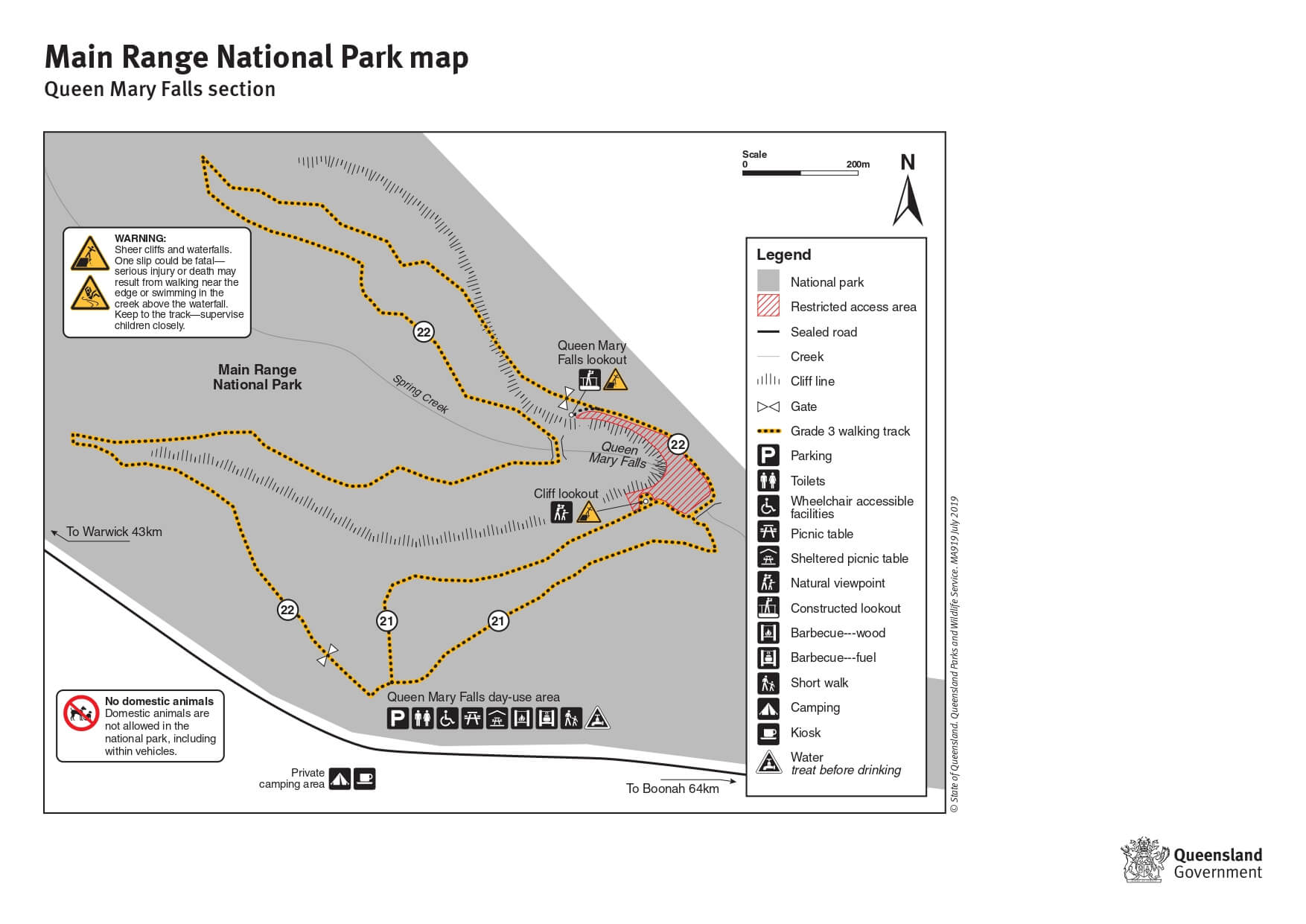 Queen Mary Falls directions:
---
Discover the magic of Purling Brook Falls in Springbrook National Park
Purling Brook Falls is a breathtaking waterfall nested in Springbrook National Park, part of the Gold Coast hinterland. Getting there takes less than an hour's drive from the Gold Coast.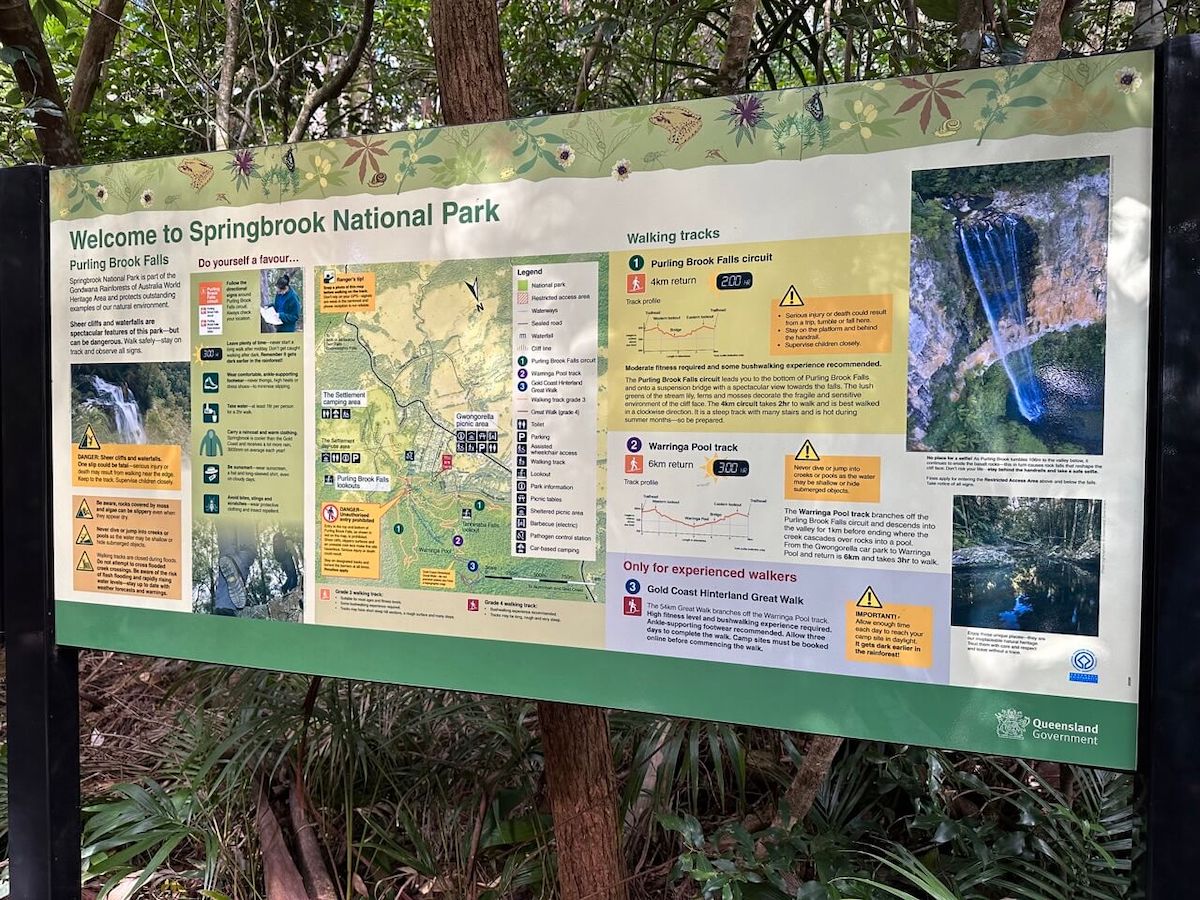 Take the moderate circuit walk in a clockwise direction for a more comfortable journey to see the waterfall. This way, you'll avoid a steep climb of about 450 steps at the end.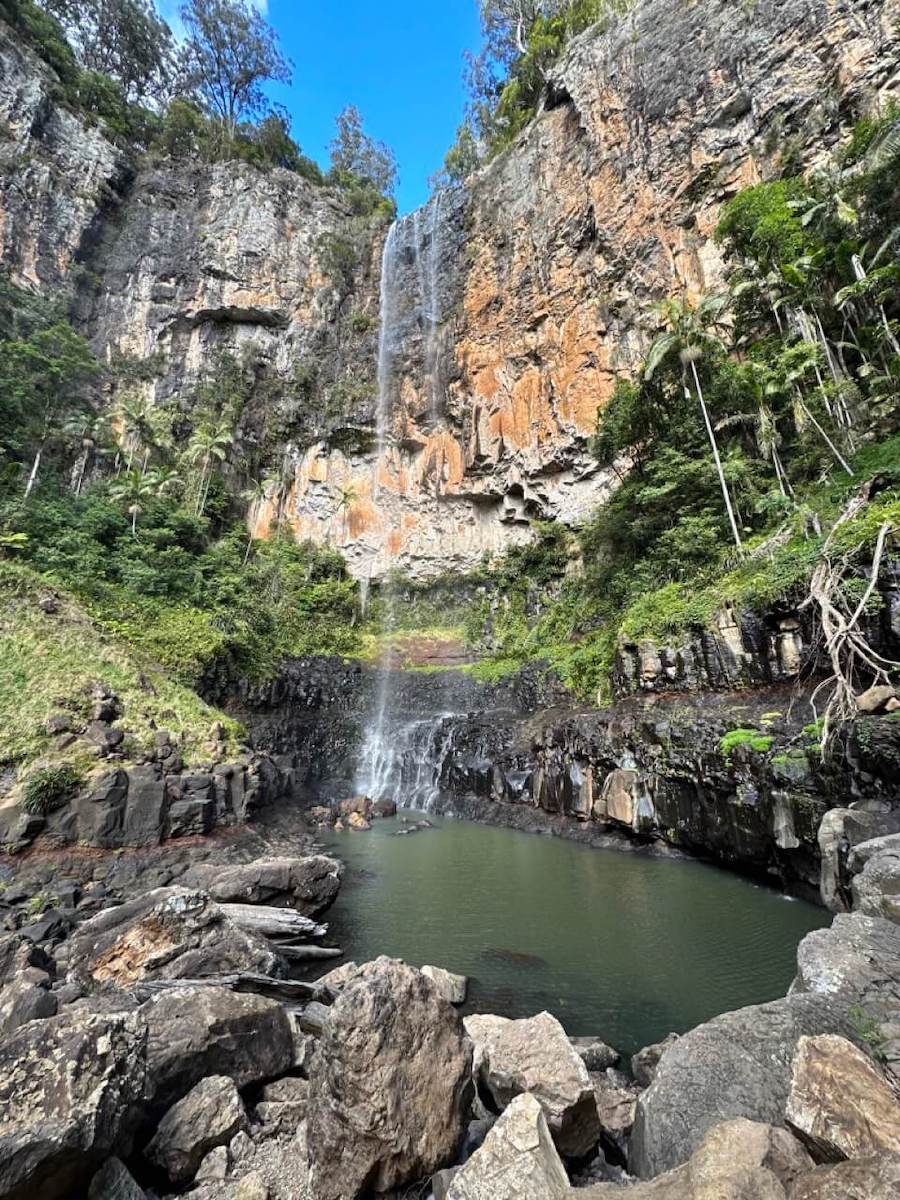 As you explore, enjoy the panoramic mountain views, grand boulders, ancient trees, and the captivating suspension bridge to observe the waterfall. Plan on a 2-3 hour adventure for this walk.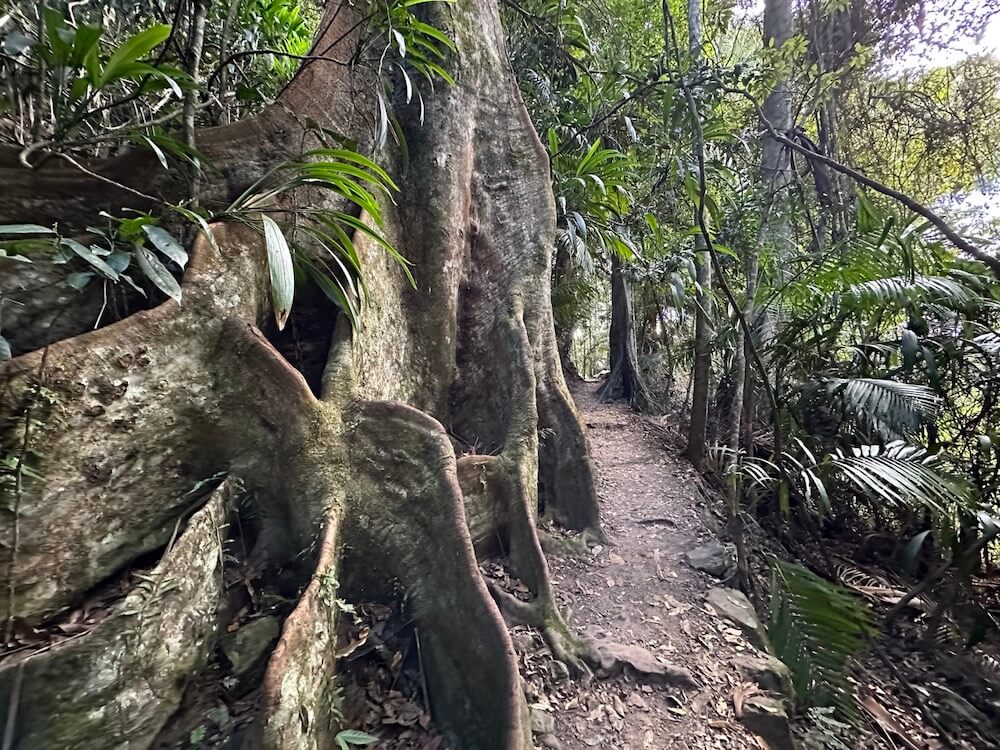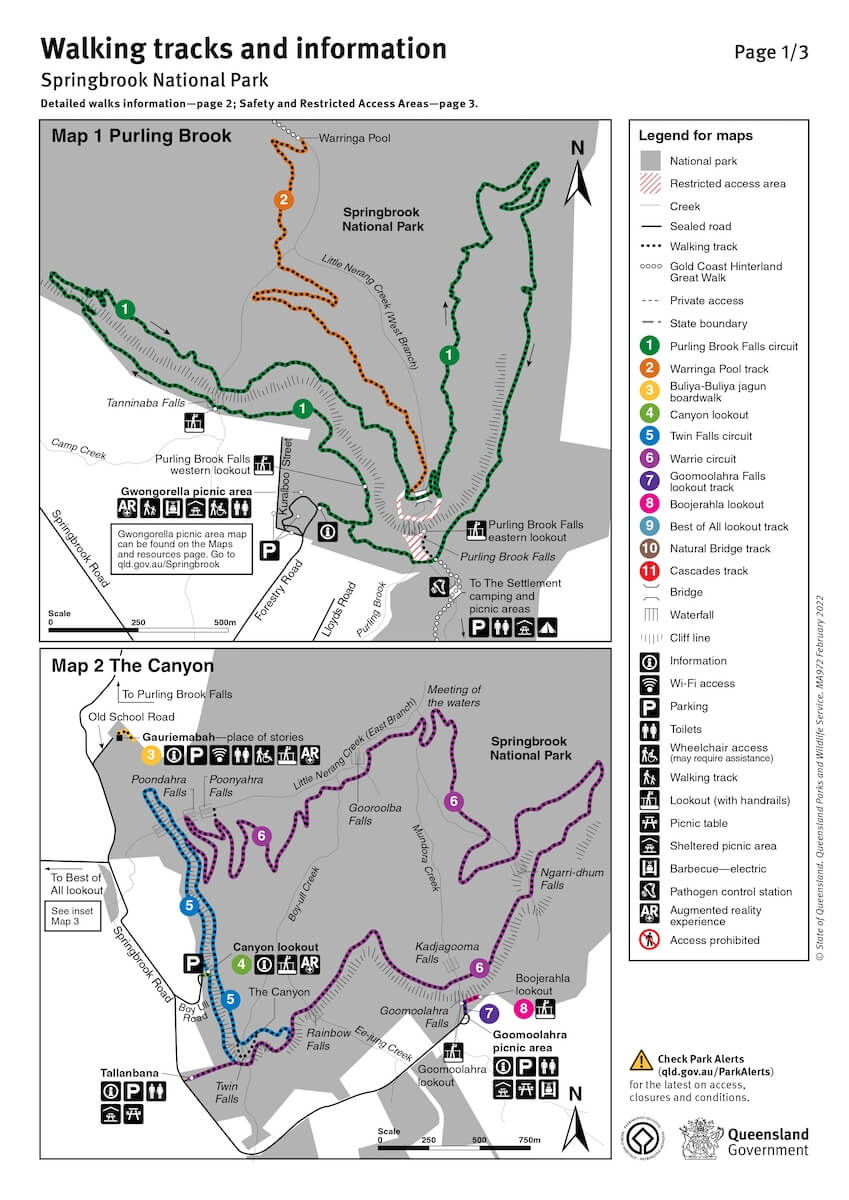 Purling Brook Falls directions:
---
Take your family on an adventure to stunning Josephine Falls in Cairns
The spectacular Josephine Falls at Wooroonooran National Park is just an hour's drive from Cairns. Don't forget to pack a picnic lunch - it's a stunning place!
Josephine Falls Cairns is a popular tourist destination during the Australian school holidays. You can enjoy the outdoors, spend quality time with family and make lasting memories in a fun and exciting way.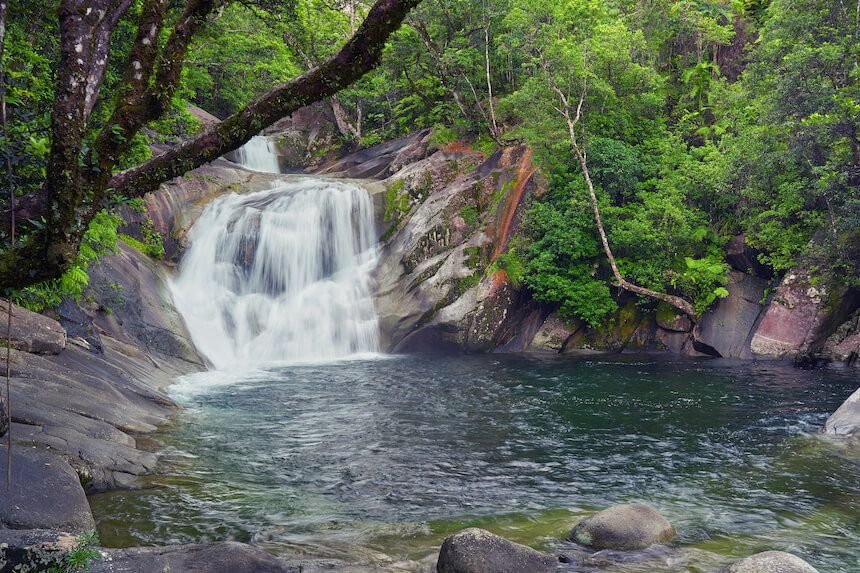 Things to know about Josephine Falls QLD:
A lovely waterfall and swimming holes

A natural waterfall slide

The short 700m Josephine Falls Walk from the carpark takes you to three different lookout points

A few picnic tables are available, so bring a picnic lunch

Plenty of parking space and a toilet at Josephine Falls carpark

There is a Josephine Falls camping area

Dogs are not allowed.
Flash flooding (rapidly rising water) is common during wetter months at Josephine Falls, Wooroonooran National Park. So always supervise your children closely! Never jump into the water, get out immediately if it changes colour or the water levels rise, and wear reliable footwear. Also, access to the top section of Josephine Falls is prohibited for safety reasons.
Josephine Falls map: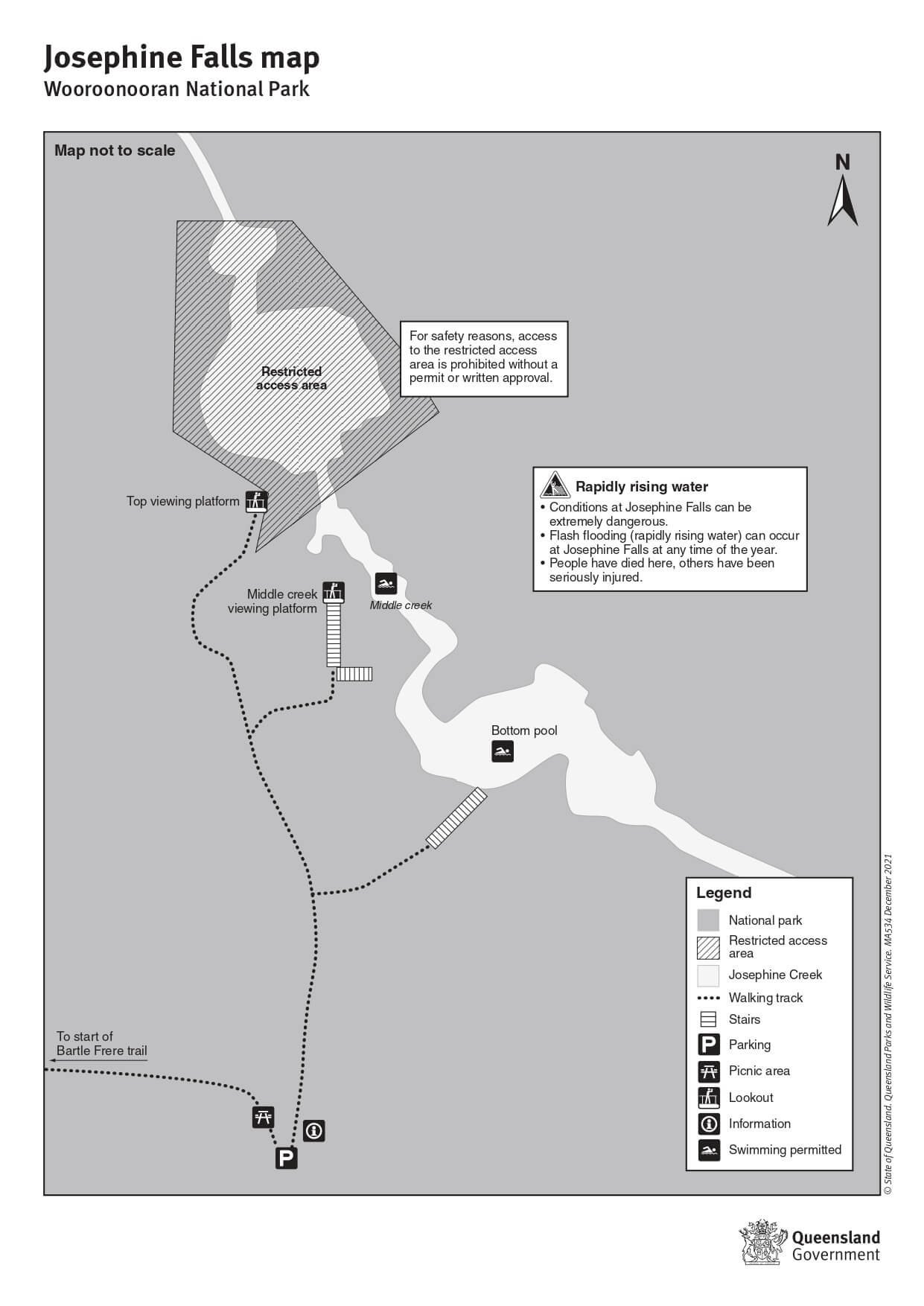 Josephine Falls directions: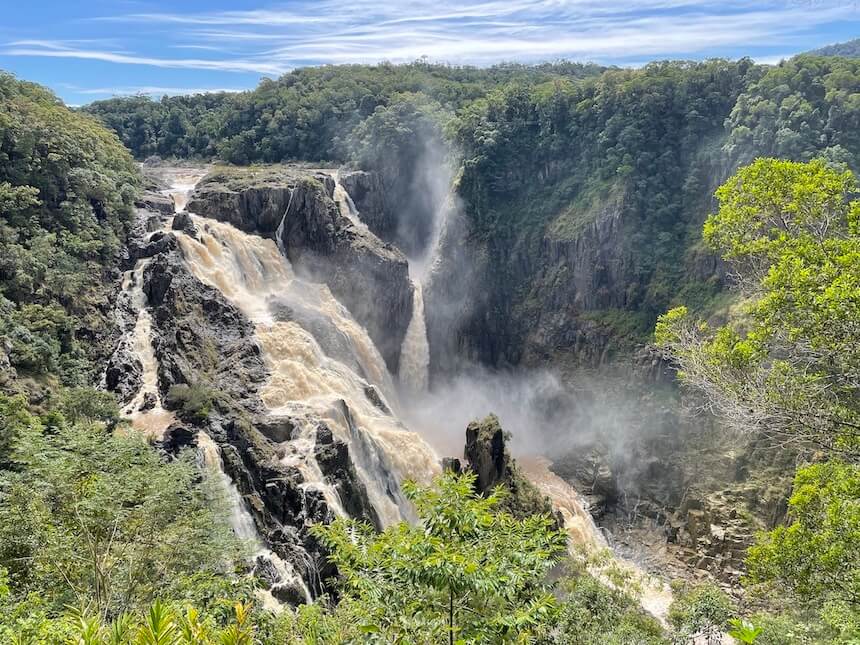 Things to know about Barron Falls near Cairns:
Barron Falls lookout is one of the best places to see the spectacular Barron Gorge Falls

Barron Falls train station offers a few different viewpoints of the stunning waterfall

Kuranda Scenic Railway offers unique trips over 37 bridges and through 15 handmade tunnels forged by Queensland's early pioneers over 125 years ago

Barron Falls Skyrail glides through the canopy on a cableway, offering a great educational experience. At different stations, kids can learn about the local flora and fauna and the importance of preserving nature

Plenty of parking available

A few benches to enjoy a picnic while looking at the stunning falls

The lookout point is just a 5-min walk from the pram and wheelchair-accessible carpark

Dogs are not allowed.
🚂🏞️  Experience the best of Kuranda in just one day!
⭐  The grand Kuranda Rainforest full-day tour from Cairns - always a hit with families! On this adventure, you get to:
Kuranda Scenic Railway
Kuranda Village
Kuranda Rainforest with Army Duck tour
Pamagirri Aboriginal Experience
Australian Butterfly Sanctuary
Koala & Wildlife Park
Rainforestation Nature Park
Skyrail Rainforest Cableway
Delicious Aussie BBQ lunch
transfers from Cairns.
⭐  Don't miss another thrilling Kuranda day tour that spotlights the Scenic Railway, Skyrail Rainforest Cableway, and Rainforestation Nature Park.
On your journey aboard the Kuranda Scenic Railway to Barron Falls, you'll also see the impressive Stoney Creek Falls!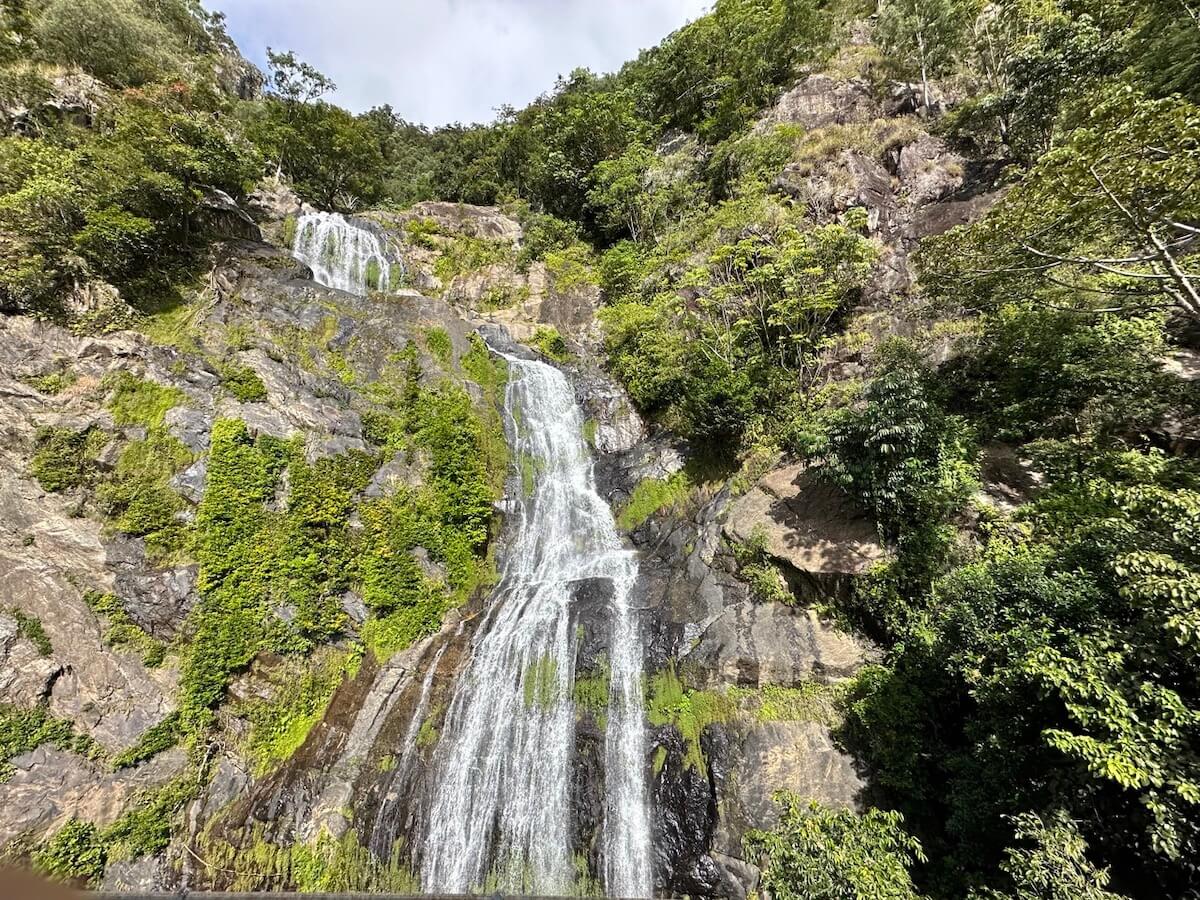 Barron Falls Walk:
The Barron Falls Lookout Walk is a rainforest canopy trail that zig-zags through the tops of the  trees, offering an exciting experience for kids and adults.
It's an easy-graded 1.2km return walk that can take up to 40 mins. This trail ends at the Barron Falls train station, offering a few different viewpoints of the waterfall.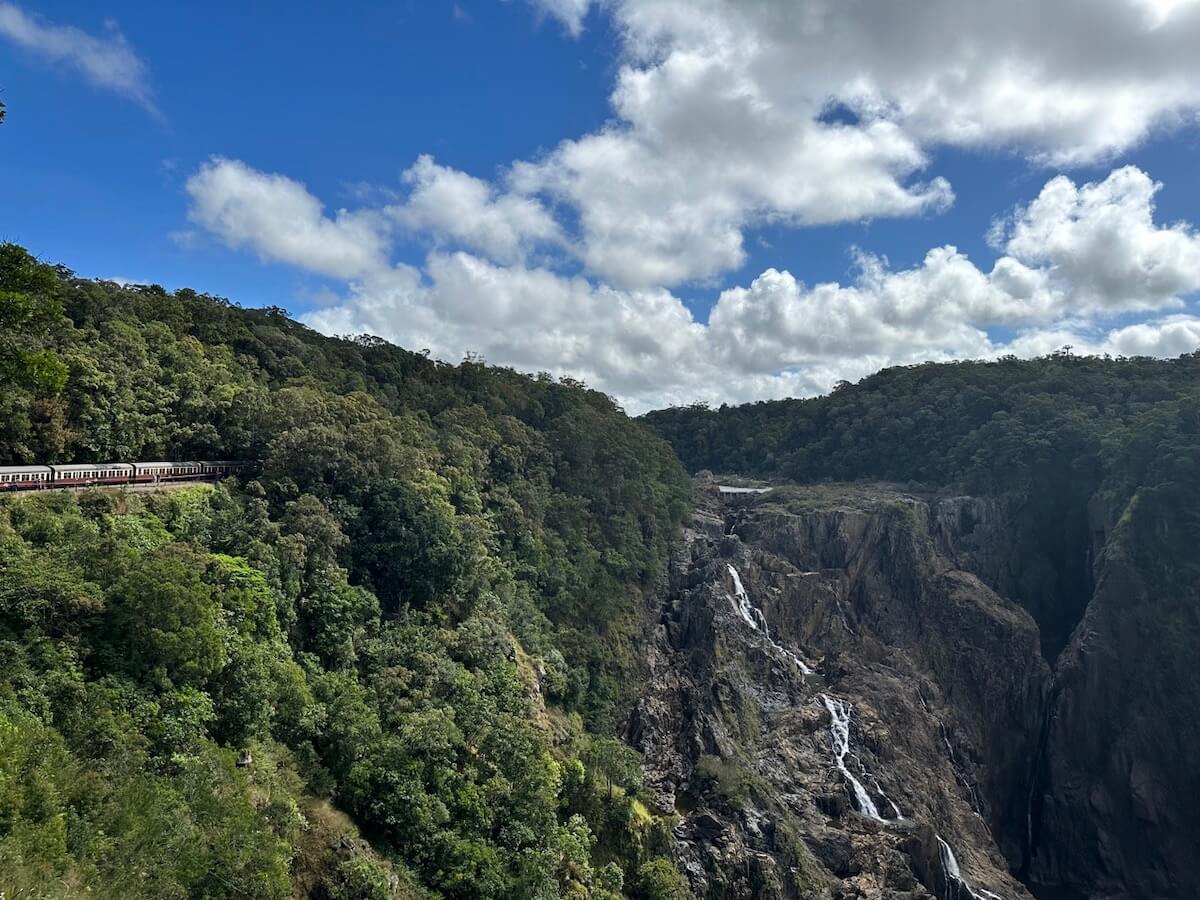 🐨🦜🦋 Looking for family fun in Kuranda? Enjoy top attractions like Kuranda Koala Gardens, Birdworld and the Butterfly Sanctuary with our special Kuranda Attraction Pass!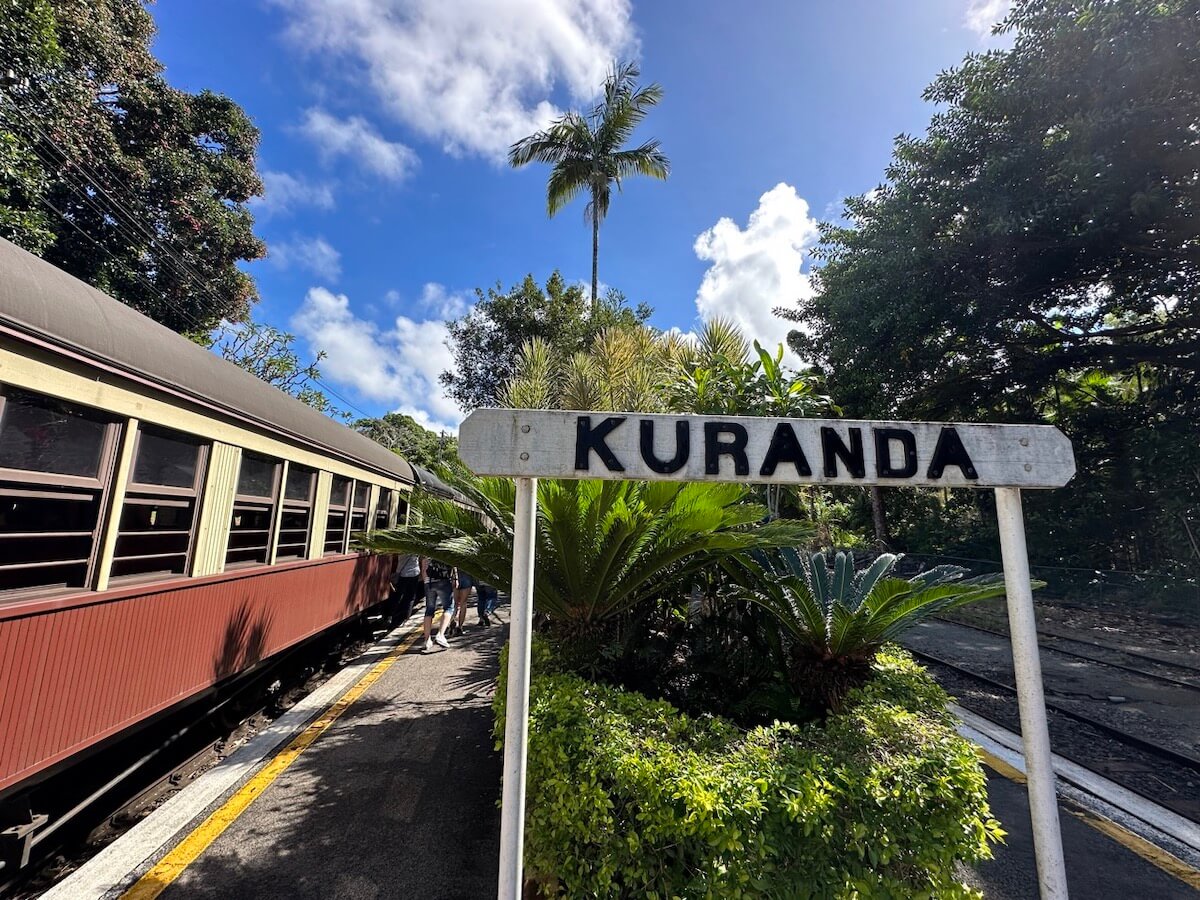 Barron Falls map: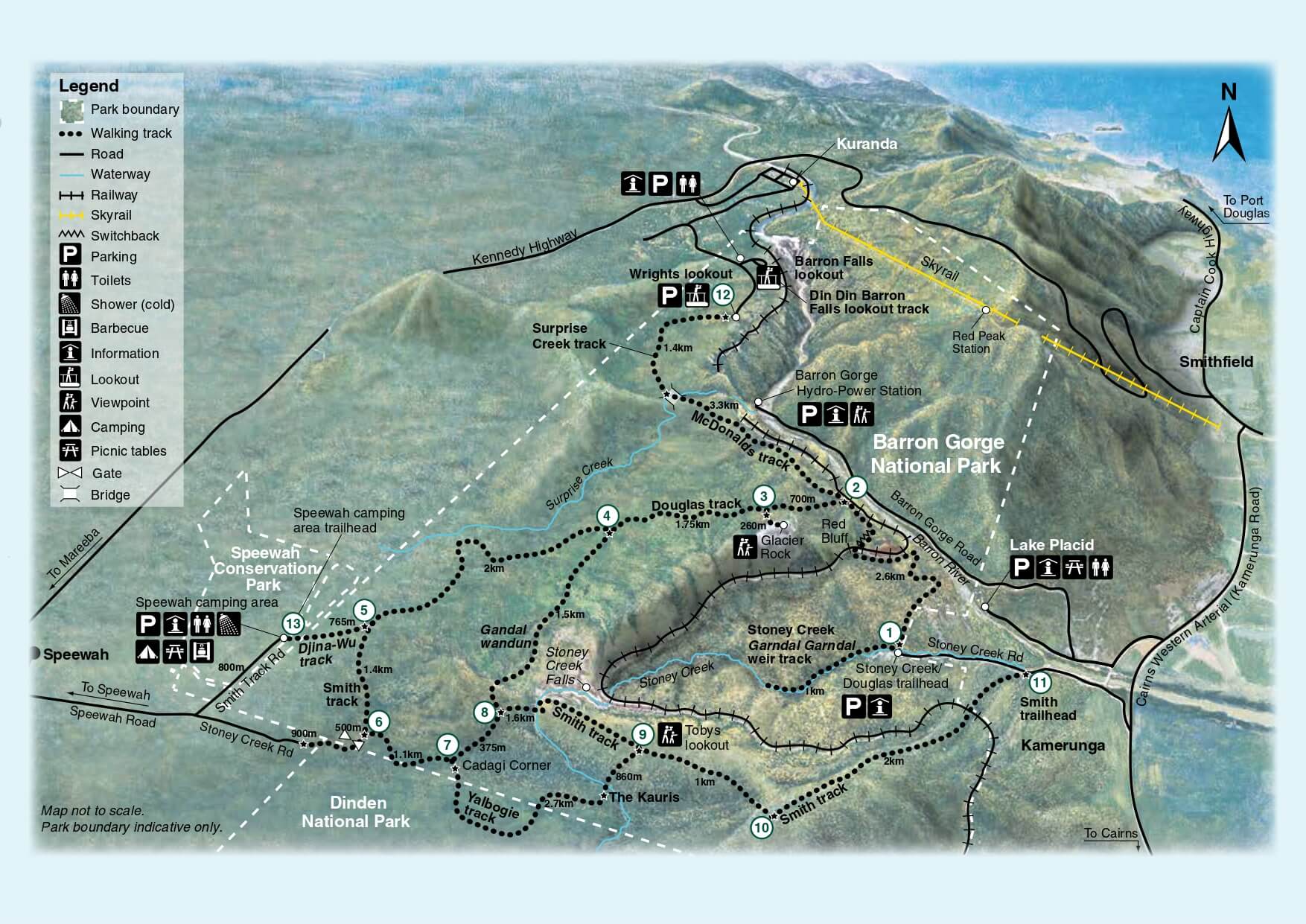 Barron Falls directions:
---
Plan a day trip to see the breathtaking Millaa Millaa Falls, Lake Eacham and Cathedral Fig Tree!
Standing at a majestic 18.3 meters / 60 feet, Millaa Millaa Falls in Atherton Tableland plunges into a swimming hole surrounded by tropical forest in just a 1.5-hour drive from Cairns.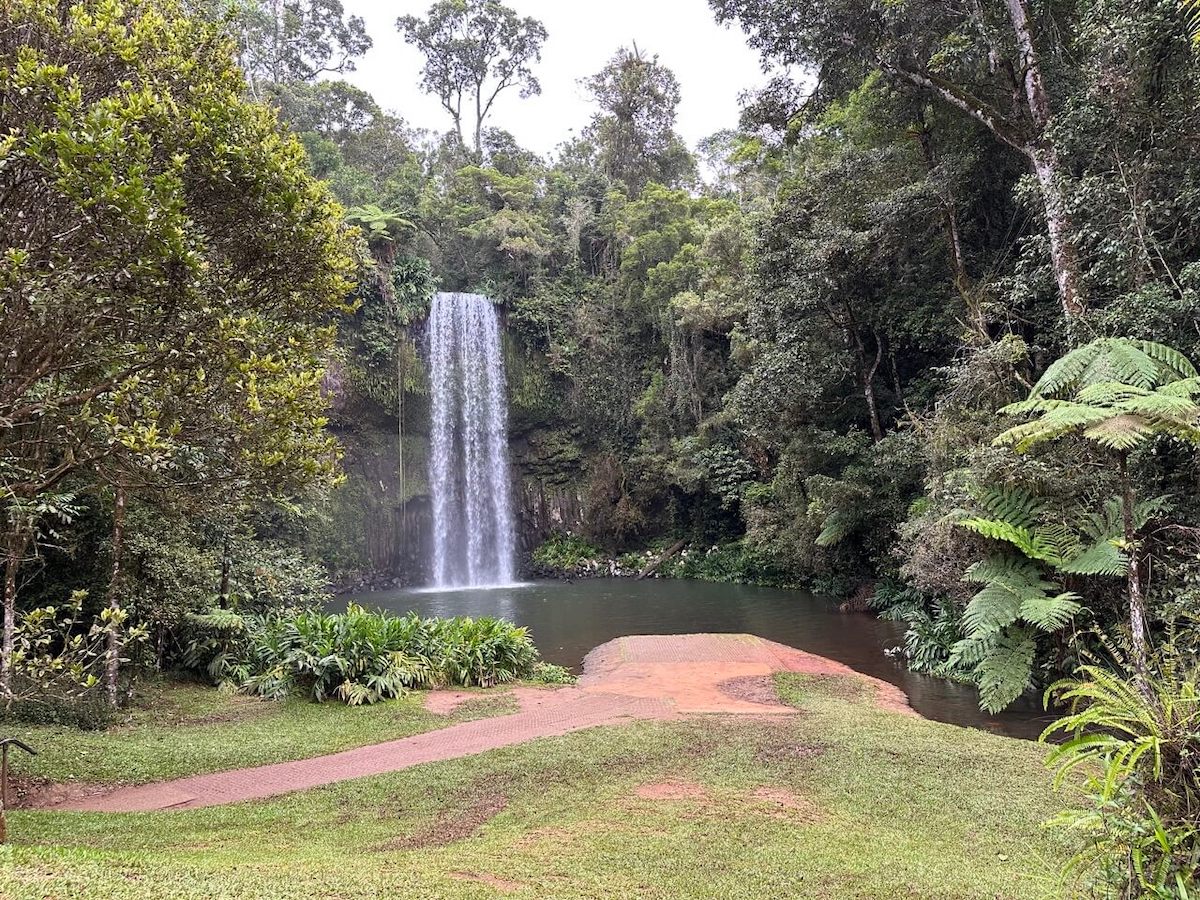 Don't forget to stop at the beautiful Lake Eacham on your way to or from the falls.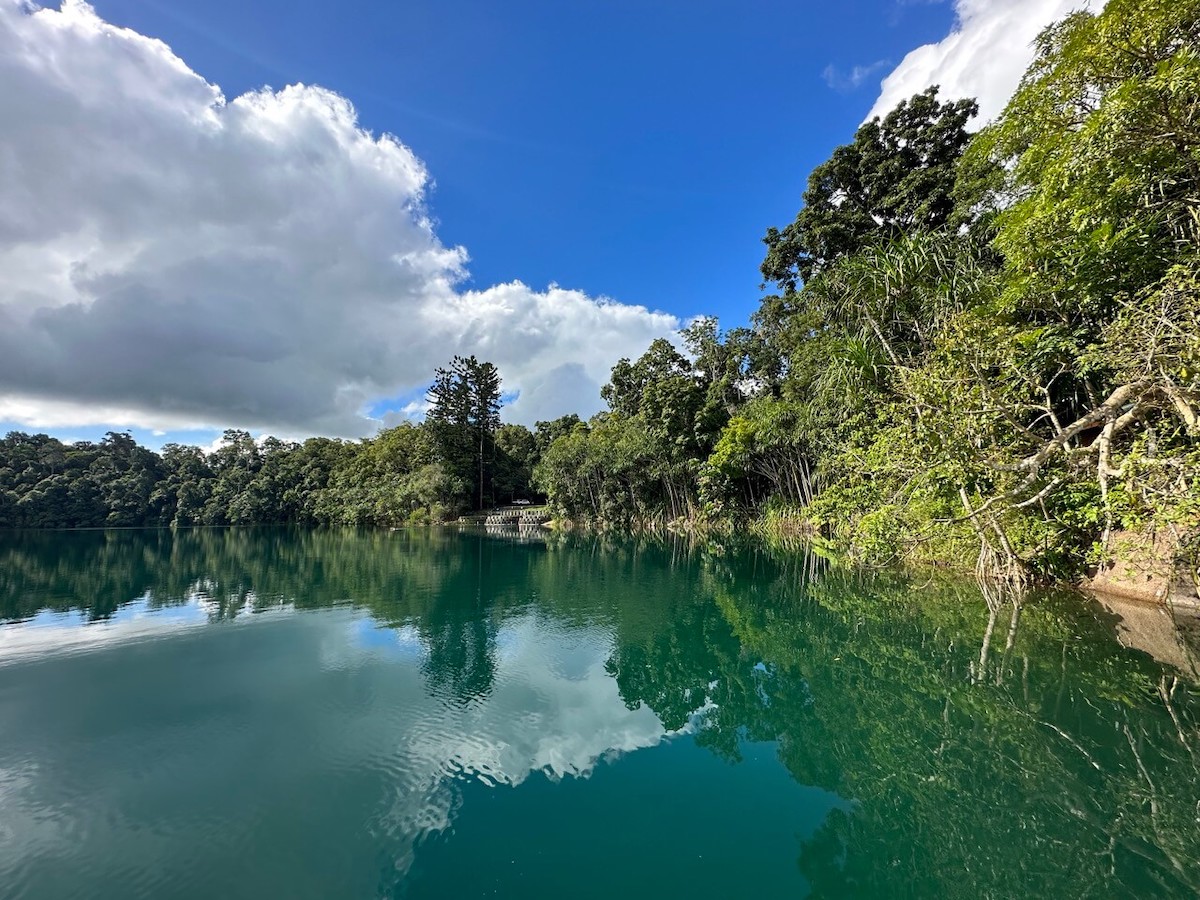 A picnic and a walk around this lake are a must. It is truly unforgettable and fun for kids and adults alike!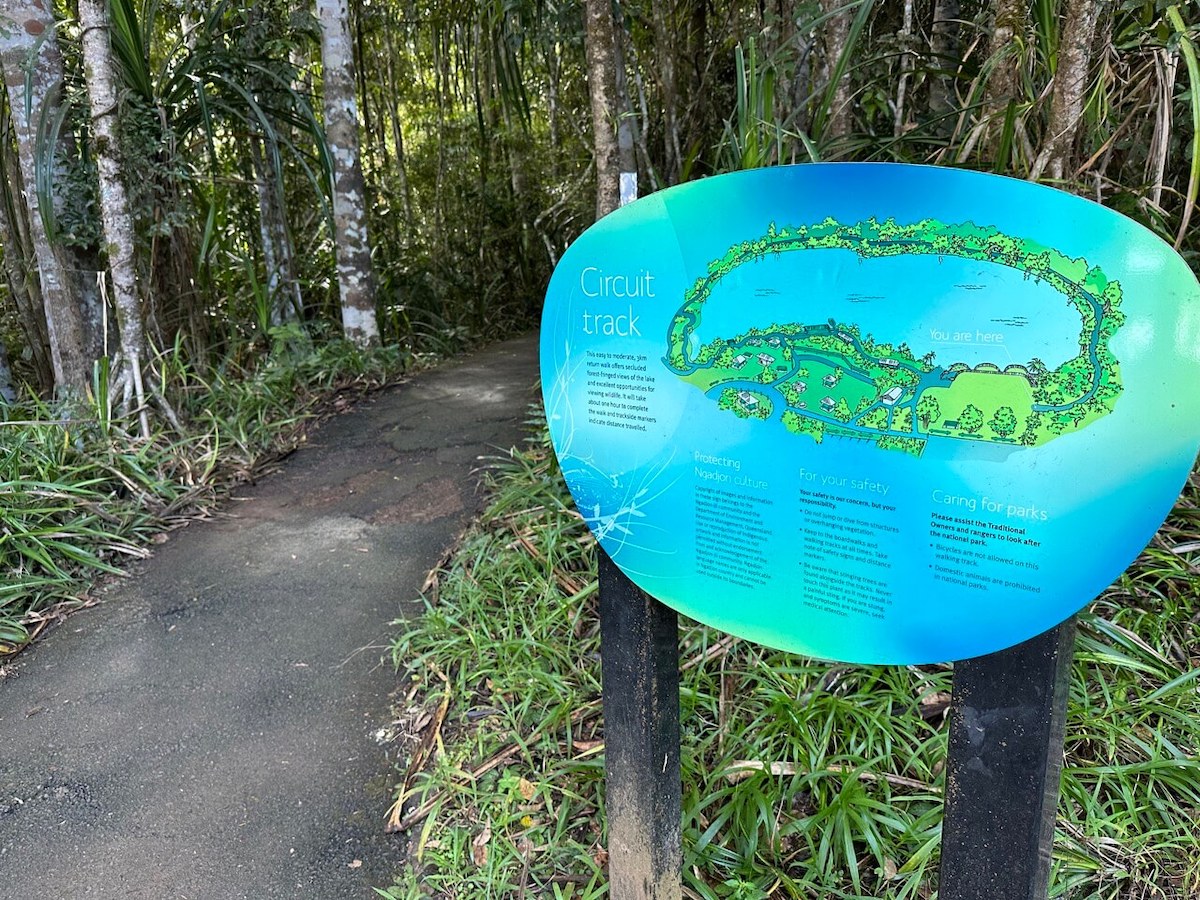 And if you want to be impressed by the spectacular Cathedral Fig Tree, one of the oldest trees in the country, put this stop on your route.
There is only a short walk from the carpark through the rainforest to see the tree. The trail is well-maintained and easy to navigate.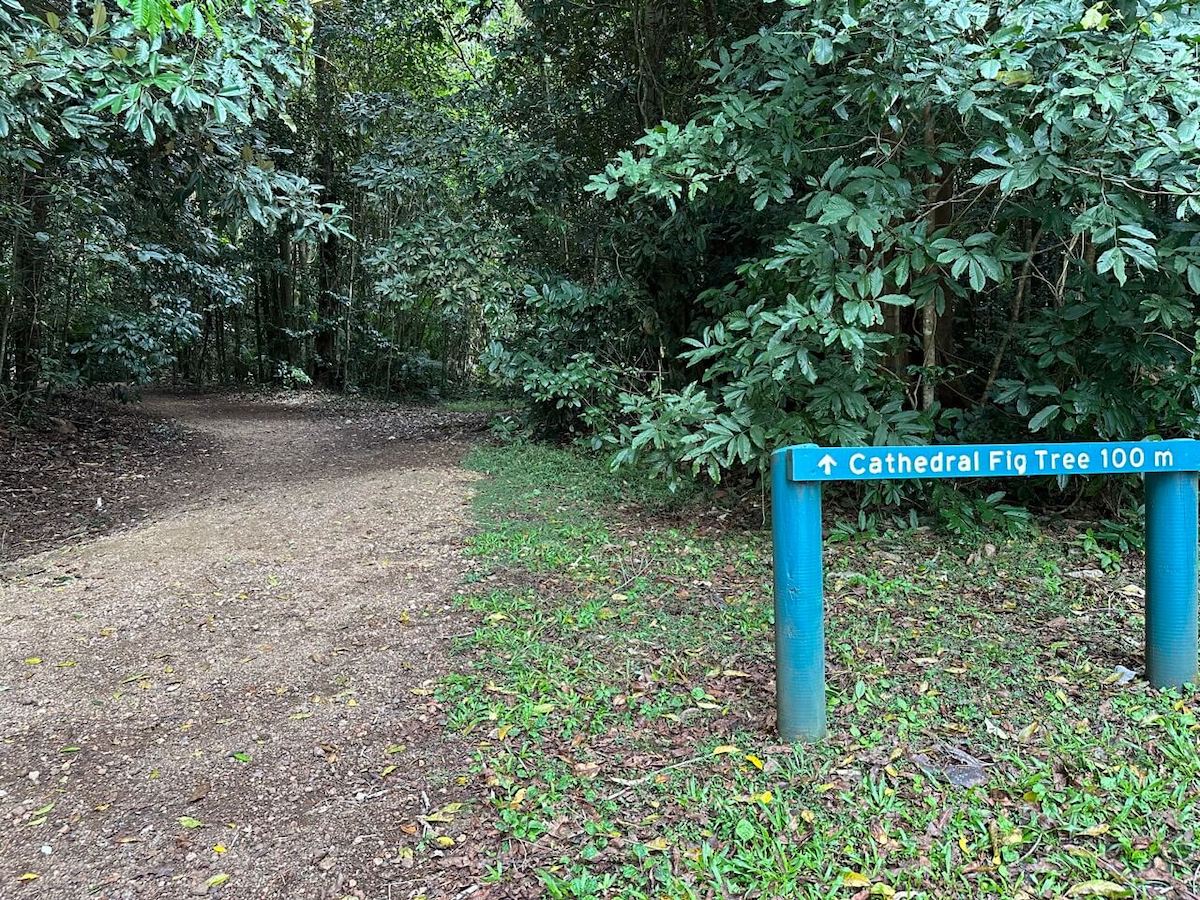 Millaa Millaa Falls location:
Lake Eacham location:
Cathedral Fig Tree location:
---
Discover the stunning beauty of Wallaman Falls - the tallest single-drop waterfall in Australia!
When looking for exciting family things to do in Townsville, Australia, the whole family can enjoy, look no further than Wallaman Falls.
Wallaman Falls, QLD, is Australia's tallest waterfall (305 meters / 1,001 ft) and part of the Wet Tropics World Heritage Area.
Things to know about Wallaman Falls:
Many endangered plants and wild animals at this UNESCO World Heritage site (e.g. Cassowaries)

Moderate-graded Wallaman Falls hike to the waterfall (2-hour return)

Lovely picnic area with picnic tables, BBQs & toilets

Wallaman Falls camping area

Ample free parking at the lookout & near the picnic area

Wallaman Falls lookout offers stunning views

Dogs are not allowed

Swimming is not allowed.
Wallaman Falls Walk:
Wallaman Falls Walk is a 4 km walk from the lookout & carpark down to see the falls. It could be challenging for younger kids on the way back. Alternatively, you can take the kids via the Cassowary territory drive-through, which is easier.
Wallaman Falls walking track map: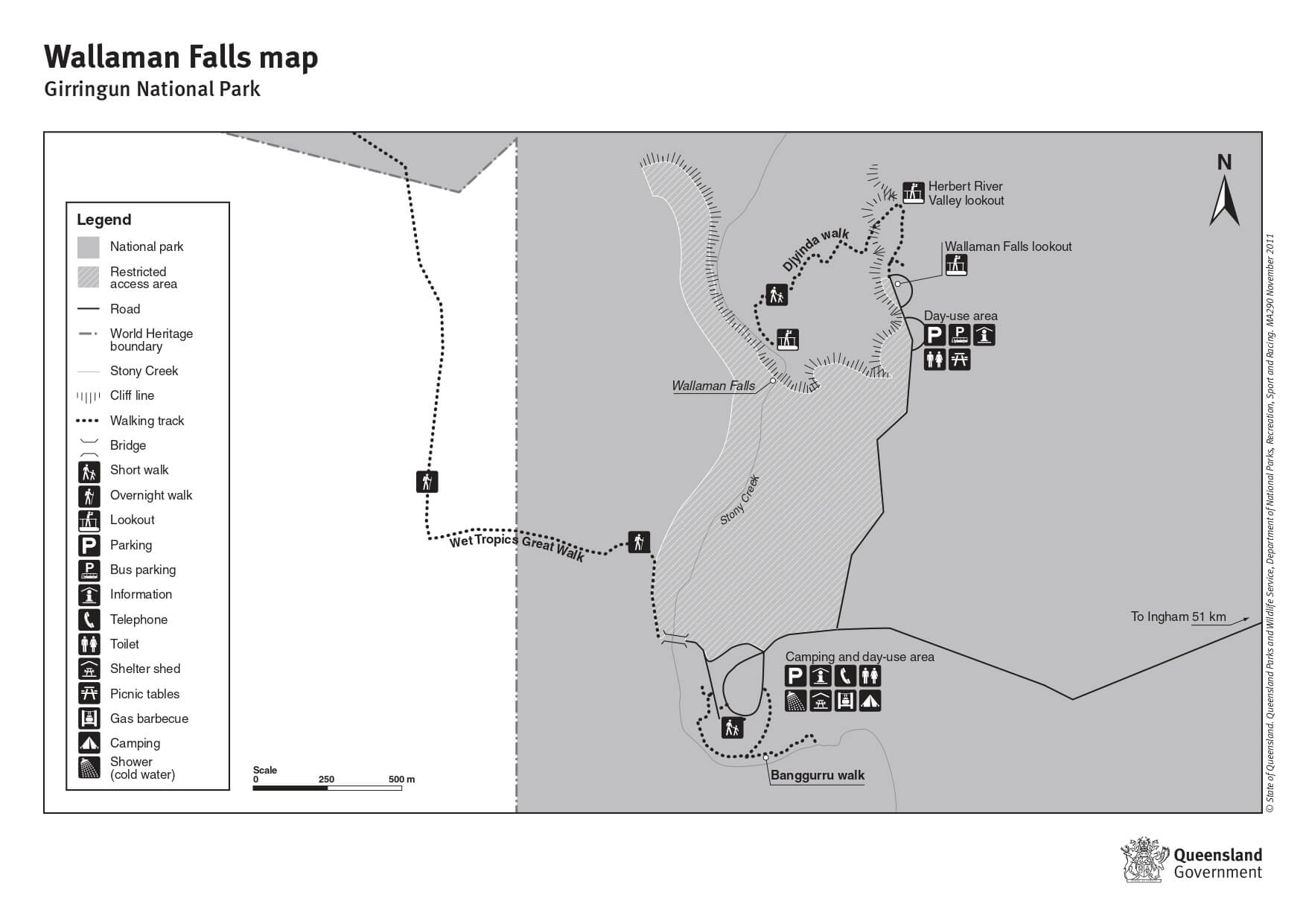 Wallaman Falls location:
Lookout Rd, Wallaman QLD 4850
---
Ready for your next family holiday? Dive into the best waterfalls in Queensland! Whether it's the towering beauty of Wallaman Falls or the kid-friendly surrounds of Cedar Creek, there's something for every adventurous family.
And with QLD school holidays just around the corner, it's the perfect time to plan a one-of-a-kind waterfall adventure! 🌈🏞️💦