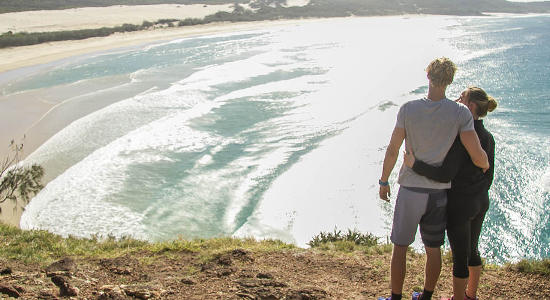 Fraser Island 1 Day Tour from Rainbow Beach
Enjoy a one-day tour of the largest sand island in the world, Fraser Island from Rainbow Beach with a picnic lunch included. Book online today!
Highlights
Full day tour to Fraser Island
Purpose-built 4WD vehicles
Self-guided rainforest walk
What you need to know
More info
Inclusions
Full Day Tour to Fraser Island
Pick up from Rainbow Beach
Morning tea
Delicious picnic style lunch with a selection of drinks
Experienced Tour Guides
Rainforest walk
Highlights
Native wildlife spotting
Seventy Five Mile Beach
Excitement of the world's best beach drive
Purpose built 4WD vehicles
Self-guided rainforest walk through the Pile Valley
Time
Tours depart from the Shell Service Station, 36 Rainbow Beach Rd, Rainbow Beach at 8am and return at approximately 3.30pm
What To Bring
Swimwear
Towel
Camera
Sunglasses
Sunscreen
Water Bottle
Dress casually and comfortably
Terms And Conditions
24hrs notice of cancellation required
Booking Information
Confirmation in the form of a tour voucher will be received at time of booking
Upon completion of purchase, please print the voucher and present on day of the tour
mobile vouchers are accepted, please present on day of the tour
For your information, complete Tour Operator Information including contact details is included on your tour voucher
Availability was accurate at the time of booking however, is subject to change due to circumstances out of our control. We strongly suggest reconfirming your booking with the tour operator within 24 hours of making your booking and prior to making other travel arrangements
Prices are seasonal and are constantly changing. The from price displayed may not always be the price you are going to pay, as once you click on your specified date, the price will change to reflect the price for that date/season. Please note that in some cases where you cannot click on a date to obtain the price, please call us so we can assist you
Important notice
Confirmation in the form of an e-voucher will be sent to your email at the time of purchase. Although we do our best to deliver it instantly, occasionally, this may take up to 6 hours for the e-voucher to be delivered. For any queries, please get in touch with us . We're always happy to help.