Over the Easter long weekend, get into that Easter spirit with one of the best hot cross bun recipes in Australia! We gathered the best easy and healthy hot cross bun recipes for you!
With the Easter long weekend in full swing, now is the perfect time to get into the Easter spirit and bake some hot cross buns with your family.
There's nothing more like Easter than the smell and taste of hot cross buns. We have the best hot cross buns recipes for you and your family to try.
Enjoy a healthy traditional hot cross buns recipe, hot cross buns spelt flour recipe, a bun recipe for kids - hot cross bun cupcakes, a yummy gluten-free hot cross bun variation as well delicious Jamie Oliver chocolate hot cross bun recipe.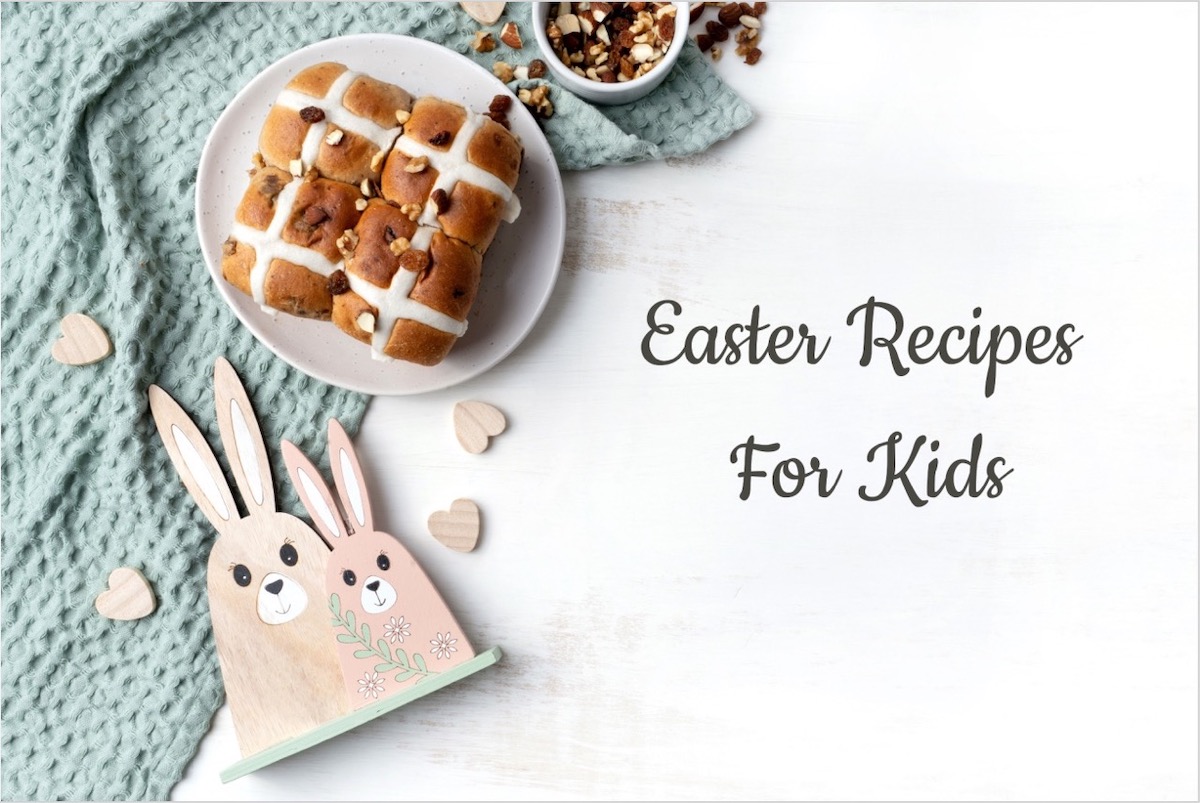 ---
On this page, you'll find:
Hot cross buns origin

When are hot cross buns eaten?

How to eat hot cross buns?

Can hot cross buns be frozen?

Which hot cross bun is best?

Traditional hot cross buns easy recipe

Hot cross bun cupcakes - easy recipe for kids

Gluten-free hot cross bun recipe (Australia)

Chocolate hot cross buns by Jamie Oliver
---
Hot cross buns origin
The origin of hot cross buns is in the United Kingdom. Nowadays, they are eaten all around the world, mainly in the UK, Ireland, Australia, Canada, New Zealand, South Africa, the United States and India.
The history of hot cross buns
When are hot cross buns eaten?
They are traditionally eaten on Good Friday and during the Easter weekend. But honestly, they can be enjoyed whenever!
How to eat hot cross buns?
As the name suggests, hot cross buns are best eaten hot, straight out of the oven or heated up. However, they can be delicious in any way.
Can hot cross buns be frozen?
Yes, they can! They would make an awesome last-minute treat or quick dessert for the future.
Which hot cross bun is best?
There are many hot cross bun varieties, from the popular fruit hot cross buns and the chocolate chip hot cross buns to flavours such as caramel, orange and even apple-cinnamon, among many others. It is entirely up to you which hot cross bun is best and which one you want to try!
---
Traditional hot cross buns easy recipe (spelt flour recipe)
Check out this delicious, easy and healthy hot cross buns spelt flour recipe and recipe for hot cross buns with self-raising flour by Read the Play. Grab your aprons and get cooking this fun recipe with the kids!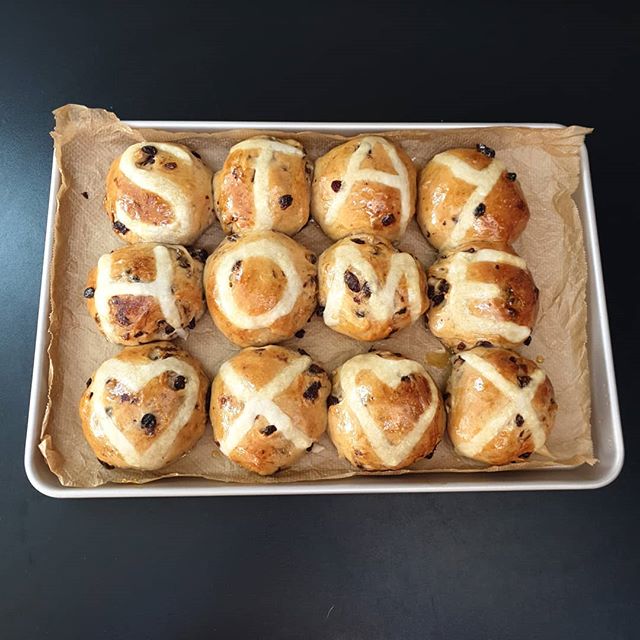 Ingredients
2 cups spelt flour + an extra 2 cups for dusting and to firm up the dough (an alternative is plain, self-raising, wholemeal)

4 tsp baking powder (if you use self-raising flour, you don't need this)

Pinch of salt

1 tsp cinnamon

1 tsp nutmeg

1 tsp mixed spice (if you only have one or two of these spices in the house, just double or triple the quantity)

½ cup rice malt syrup (an alternative is maple syrup or honey)

⅔ cup almond milk (use any milk you have in the house)

5 tbsp vegetable oil (an alternative can be olive oil, grape seed oil or melted coconut oil)

1 egg (optional for glaze)

100g sultanas (an alternative is dark chocolate chips, currants or dried apricots)

50g melted sugar-free white chocolate (an alternative is melted dark chocolate)
Method
Preheat oven to 180°C/375°F and line a baking tray with baking paper

In a large bowl, combine 2 cups flour, salt, spices and baking powder

In a separate bowl, mix rice, malt syrup, vegetable oil and almond milk

Make a well in the centre of the dry ingredients, add the wet mixture and fold until a dough is formed. You may need to add more flour if the mixture is too wet. The dough should feel soft but not too sticky. On a clean bench, dust with flour, place your dough over the flour and knead through sultanas for 2 minutes. Continue to add flour as you need if the dough is still quite sticky.

Grab a small amount of flour in your hands and pick up a small handful of dough and roll into a ball. Place onto the tray and repeat. Place the hot cross buns very close together with a small gap in between so that when they rise, they are connected.

Quickly beat an egg and brush over hot cross buns.

Place in the oven for 20 – 25 minutes or until browned. Let cool completely.

With your melted chocolate, use a teaspoon to draw a cross on each bun slowly.

When your chocolate has set, slice the hot cross bun in two and toast with butter. Enjoy!
---
Hot cross bun cupcakes - easy hot cross buns recipe for kids
Join the fun by making your own hot cross bun cupcakes with the hot cross buns recipe for children from Things To Do And See Melb East. This family made these yummy cupcakes with their daughter, a superstar baker, and now you and your children can too.
You'll be able to enjoy this delicious treat with this easy hot cross bun recipe for kids, so try not to worry if your children don't have any experience in baking before.
Just follow these simple steps and see how quickly the hot cross buns cupcakes turn out perfect every time.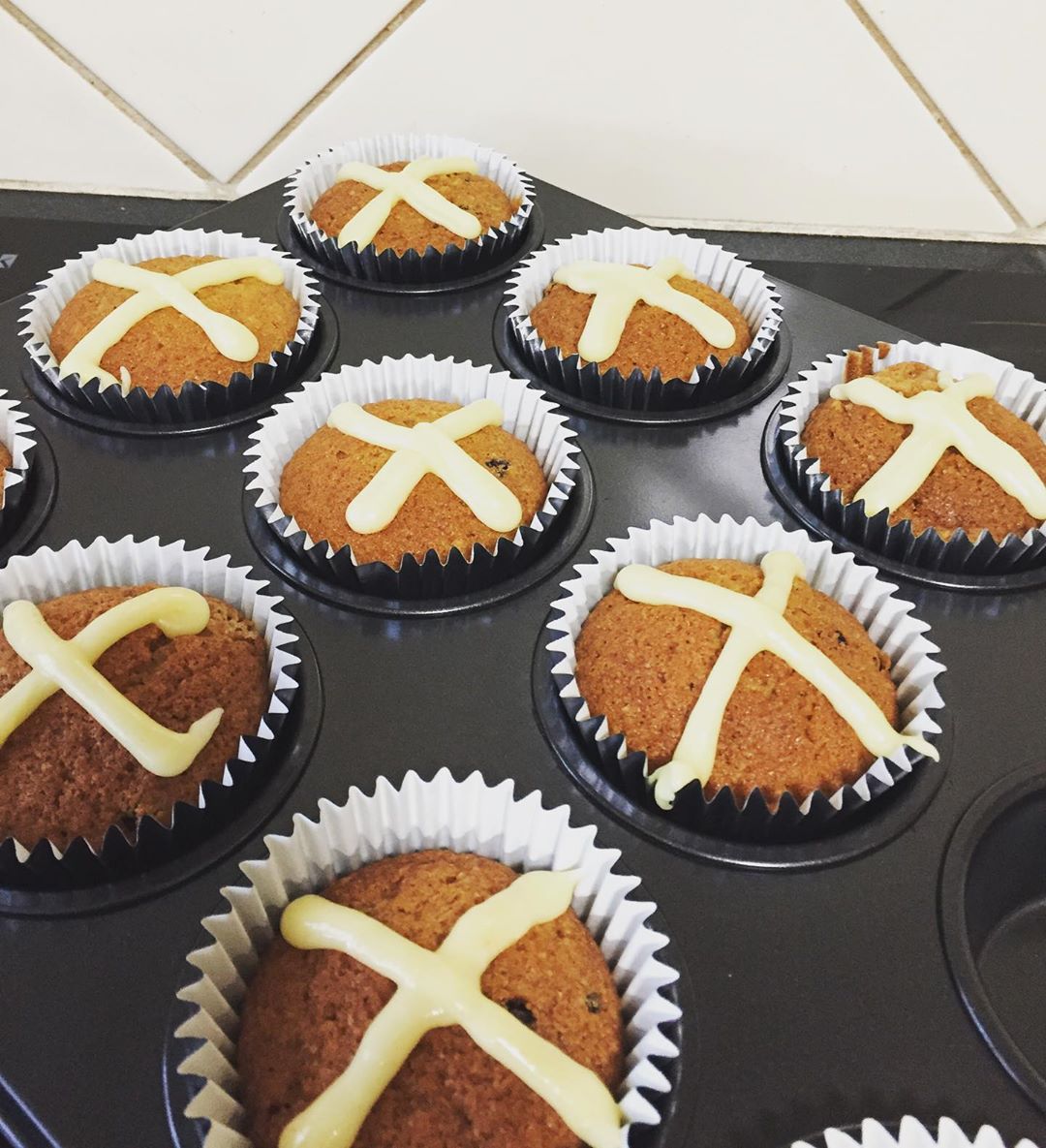 Ingredients
130g Self Raising Flour

1/8 Teaspoon Baking Soda

100g Caster Sugar

25g Brown Sugar

1/2 Teaspoon Cinnamon

1/2 Teaspoon Mixed Spice

30g Currants

100ml Orange Juice

140g Butter

2 Eggs

1 1/2 Tablespoon Milk

Buttercream

170g Icing Sugar

80g Butter – Room Temperature

1/4 Teaspoon Vanilla Extract

1 Tablespoon Milk
Instructions
Firstly, we want those currents to soak up some orange juice. So add currents and orange juice to a small bowl and allow to sit for about 30-45 minutes. Drain and set aside.

Flick oven onto 180°C bake or 170°C Fan bake.

For the cupcakes, sift together all the dry ingredients into a free-stand mixer and then fold through the currents.

Add the eggs and butter and beat for 1 minute. Lower the speed and add the milk below given one last blast.

Fill paper cases about two-thirds full and bake for about 15-20 minutes or until the cake springs back when touched. Remove from oven and allow to cool completely.

For the buttercream, beat butter in a free-standing mixer for 5 minutes, scraping sides down occasionally.

Sift icing sugar and add to the butter in two stages, beating for another 3 minutes between additions. On a slow speed, add the milk, then turn the mixer speed back up for another 5 minutes.

Once the cupcakes are cool, pipe a thin cross over the top of the cupcakes, serve and enjoy this easter cupcake treat.
---
Gluten-free hot cross bun recipe (Australia)
Don't miss this recipe for tasty gluten-free hot cross buns Woolworths has created. These delicious hot cross buns are great for snacks or as school buns for your yummy lunchbox ideas.
Feel free to adjust this Woolworths hot cross buns recipe for any of your health needs or a number of servings. They take 1 hour 10 minutes to prepare and 20 minutes of cooking time.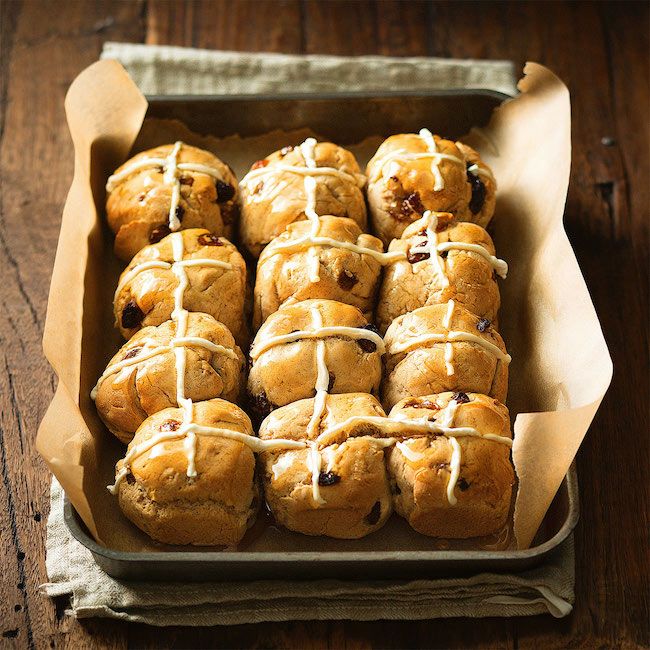 Ingredients
1½ cups warm milk

2 x 7g sachets of dried yeast

750g pkt Woolworths Free From Gluten Plain Flour

½ cup caster sugar

3 tsp mixed spice

½ teaspoon of salt

1 cup sultanas

125g butter, melted, plus 1 tbs extra for glazing

2 eggs, lightly beaten
Instructions
Transfer 1/2 cup milk to a jug and stir in yeast. Set aside for 10 minutes until frothy.

Reserve ¼ cup of flour in a small bowl. Combine the remaining flour, sugar, mixed spice, salt and sultanas in a large bowl. Make a well in the centre. Add melted butter, egg, yeast mixture and enough of the remaining milk to form a soft dough.

Knead on a lightly floured surface until smooth. Clean and grease the bowl. Return the dough to the bowl. Cover with plastic and a tea towel and leave in a warm place for 30-45 minutes or until doubled in size.

Preheat oven to 190°C. Grease a pan (the recommended size is a 20 x 30cm slice pan).

Turn the dough onto a lightly floured surface. Knead for 5 minutes. Divide into 12 even pieces. Arrange snugly in the pan.

Add 2-3 tbs of water to the reserved flour to make a thick paste. Transfer to a small zip-lock bag and snip off the corner. Brush the tops of the buns with extra melted butter, then use flour paste to pipe crosses on the tops of the buns.

Bake for 15-20 minutes or until golden. Serve with your favourite toppings.
---
Chocolate hot cross buns by Jamie Oliver
Perfect for chocolate lovers, these traditional chocolate hot cross buns from Jamie Oliver are a tasty treat.
This Easter weekend in Victoria or during the Easter school holidays, make sure you don't go without the delicious Jamie Oliver chocolate hot cross buns recipe. His recipe for these traditional chocolaty treats will have your mouth watering as soon as they come out of the oven!
Watch the video below for this hot cross buns recipe from Jamie Oliver.
How to make chocolate hot cross buns. Jamie Oliver's recipe
Ingredients
50g unsalted butter

50g golden caster sugar

1 heaped teaspoon of mixed spice

1 whole nutmeg for grating

200ml semi-skimmed milk

1 large free-range egg

400g strong white bread flour, plus 2 tablespoons and extra for dusting

50g quality cocoa powder

1 x 7g sachet of dried yeast

150g quality dark chocolate (70%)

100g raisins or mixed dried fruit

3 tablespoons runny honey
Instructions
Place the butter, sugar, mixed spice, a good grating of nutmeg and a pinch of sea salt in a pan over low heat and warm gently until melted, stirring occasionally.

Remove from the heat, pour in the milk, then crack in the egg and whisk well.

Sift the flour and cocoa powder into a large bowl and tip in the yeast. Make a well in the middle, then gradually pour in the milk mixture, stirring and bringing in the flour from the outside to form a rough dough.

Knead on a flour-dusted surface for around 5 minutes or until smooth and springy. Transfer to a flour-dusted bowl, cover with a clean damp tea towel and prove in a warm place for 1 hour 30 minutes, or until doubled in size.

Chop half the chocolate into 12 equal-sized pieces and put aside, then finely chop the remaining chocolate into tiny chips. Chop any large dried fruits into smaller pieces.

When the dough is ready, transfer to a clean surface and use your fist to knock out the air. Roughly stretch and flatten out the dough, sprinkle over the chocolate chips and dried fruit, then knead for a few minutes until smooth again, pushing any chocolate or fruit that escapes back into the dough.

Preheat the oven to 180ºC/350ºF/gas 4, and grease and line a baking tray (recommended size: 25cm x 35cm).

Divide the dough into 12 equal pieces. Flatten one piece slightly, push a piece of chocolate into the centre, snapping it to fit, if needed, then fold the dough back over the chocolate to trap it inside. Shape the dough into a neat ball and place it on the prepared tray. Repeat with the remaining dough, leaving a small gap between each bun.

Cover with a damp tea towel and leave to prove in a warm place for around 45 minutes or until doubled in size.

Mix 2 tablespoons of flour with enough water to give you a thick batter consistency, then transfer to a piping bag. Pipe thin crosses across the top of the buns.

Bake for 25 minutes or until golden, then transfer to a cooling rack. Warm the honey a little to loosen, then gently brush over the buns to glaze.

Slice open while warm to enjoy the melting middle – it's delicious, served with a little butter and a pinch of sea salt if you like.
Jamie likes to use a rosemary or thyme sprig as a brush for the honey when he glazes the buns. It gives everything a gorgeous herby fragrance.
---
Here's even more about Easter: