Most of our kids enjoy playing games on their smartphones and family tablets, but it's always worth keeping an eye on what they are doing, just in case.
In this article, you will find everything you need to know about how to protect your family spending from unwanted in-app purchases made by the kids.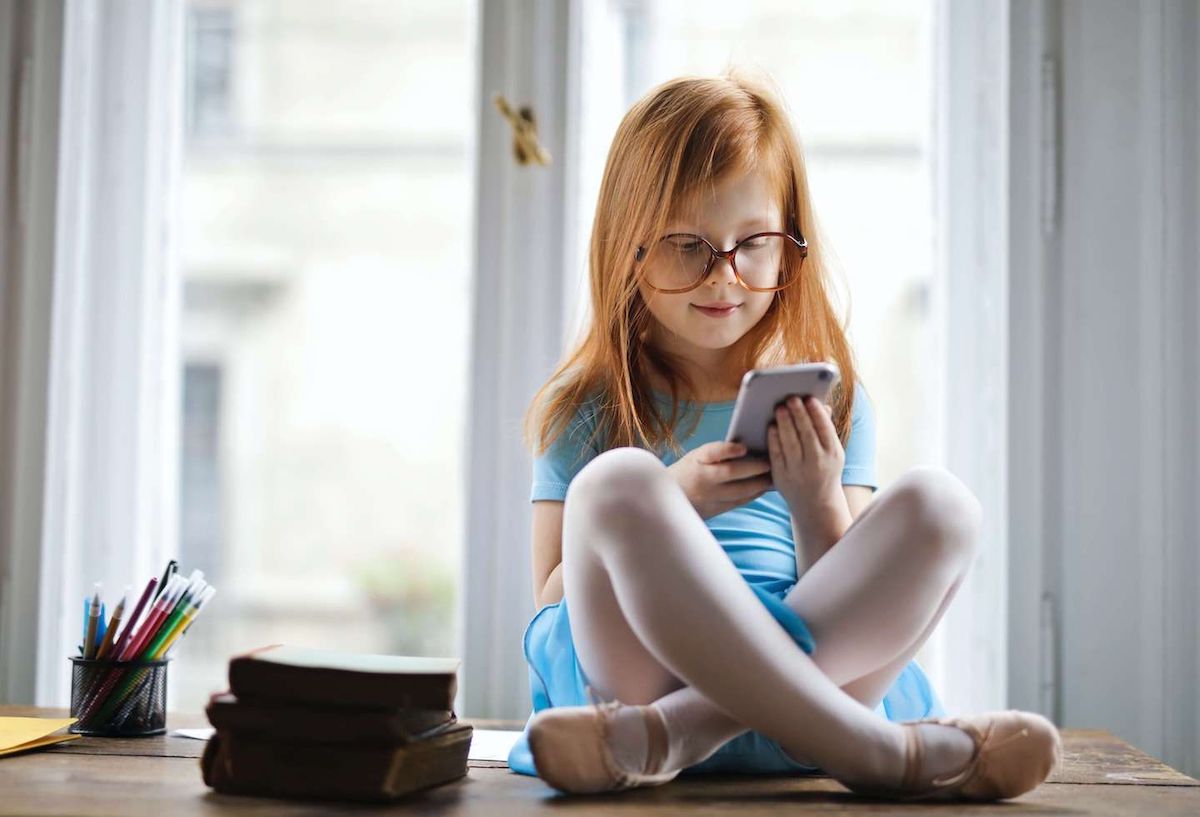 😄📢 Fantastic news! While you're mastering the art of managing your kids' games and apps, turn your attention to planning the next family adventure! Here's a dazzling array of school holiday ideas to ensure your kids' holidays are packed with laughter, learning and unforgettable memories!
---
As parents battle with kids' screen time, another, often unwarranted, shock is all too often delivered in bank accounts from in-app purchases and games, leading kids to spend hundreds and sometimes thousands of reality dollars.
Many of us, parents, know that free-to-download mobile apps and games make revenue from in-app purchases. Money.co.uk has recently calculated that over half of free-to-download apps on the Google Android Store have the potential for hidden costs for us parents.
For a large portion of these games, in-app purchases provide certain advantages and additional features for players during the gaming experience. However,  in this article, we're particularly concerned about in-app purchase games that are aimed at children.
Parents are often taken by surprise by unauthorised credit card charges. According to a 2020 SellCell survey and Statista:
over 40% of parents said that in-app purchases makeup to US$10 (A$12.90) a month and

about 8.2% of parents stated that their kids spent more than US$100 (A$129) on in-app purchases in mobile games monthly.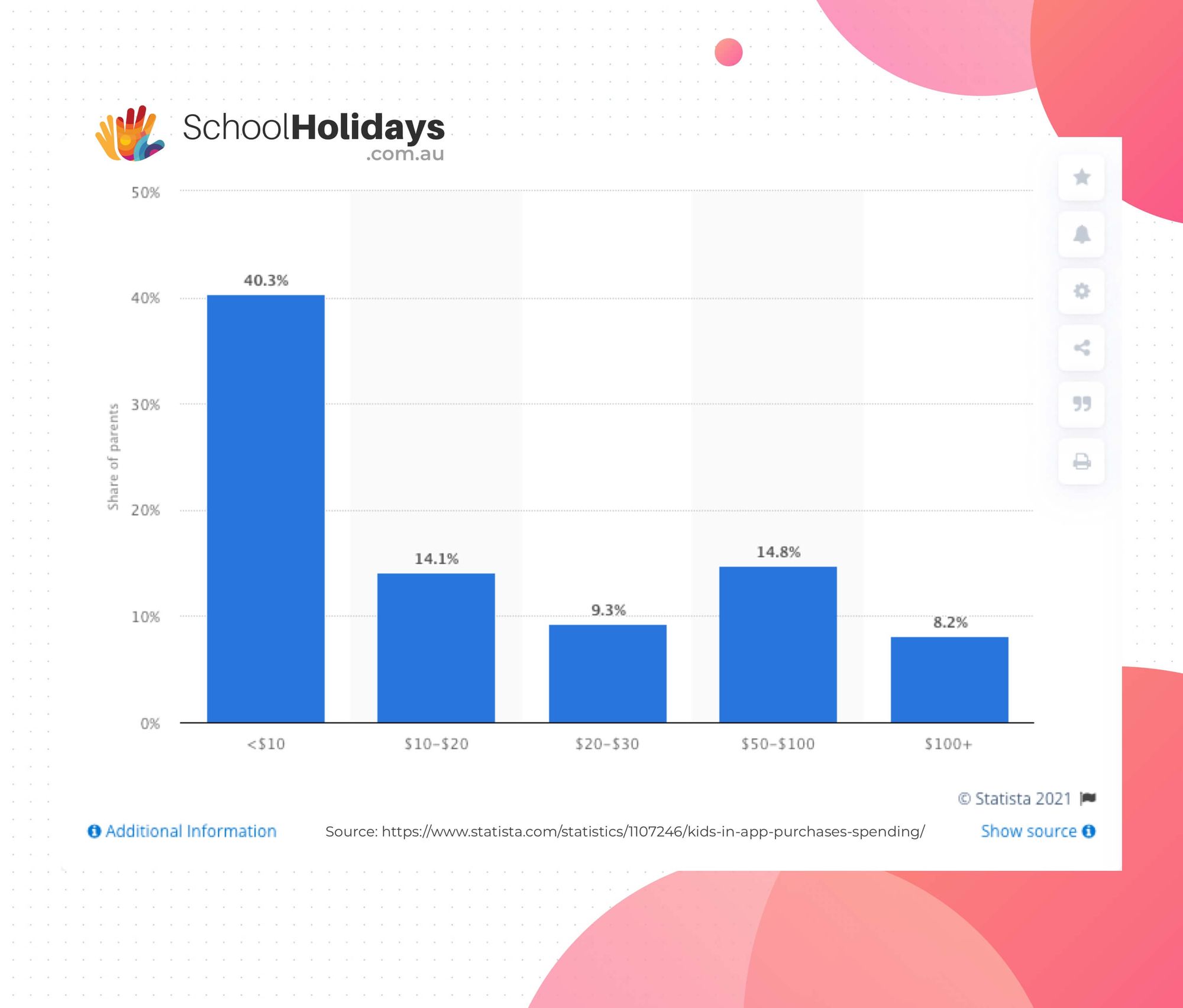 Not all apps make it clear at what point an in-app purchase is actually made. This is why kids using their parent's device may not realise the in-app purchases are spending their parent's money in the real world.
Apple Insider has also shed light on this problem, telling a story of a six-year-old who spent over $16,000 of his parent's money in the App Store.
While we may give up on the screen time front, the battle for the seemingly blank cheque that is our credit cards, living inside Apple or Google wallets, is a battle with several lines of defence available to us, says Ilya Furman of Furman+Furman lawyers:
We have recently successfully sued Apple on behalf of a client whose child spent thousands on the Roblox game.
---
Top free games at Google Play Store stats
In 2020, Money.co.uk examined the Google Play store's Top Free Games section and found that 29 out of the 50 most popular free apps have many more associated costs than meets the eye.
58% of the games analysed contained in-app micro-transactions, with only 42% of the free games not offering in-app purchases as part of their experience. Overall, it was estimated that the average in-app purchases made were over £15 (about A$27).
Considering the high number of downloads (over 40,000,000) and the stats based on a 2016 study on Global In-App Purchasing Trends, just 5% of users who install apps make in-app purchases, and yet it was found that the overall revenue earned by these free apps is about £630,655,450 (more than A$1.148bn) - an enormous amount!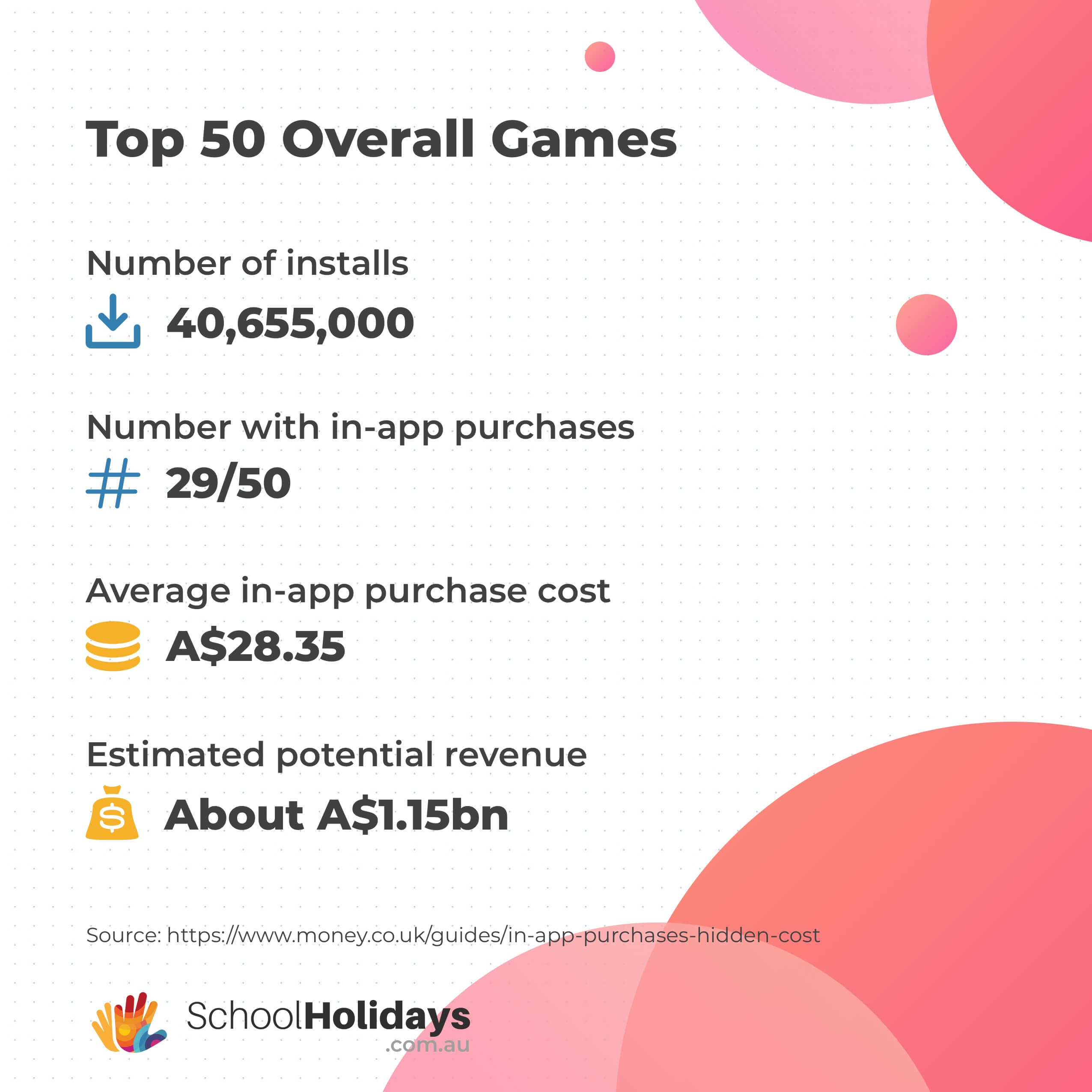 ---
Kids' best free games and hidden in-app purchases
According to Money.co.uk, the Google Play store has a specific set of games for children of different age groups:
Ages up to 5,

Ages 6-8 and

Ages 9-12.
The stats for the Top 50 games within each of these categories for in-app purchases look like this:
82% of children's apps and games had in-app purchases as part of their gaming experience.

The average cost of an in-app purchase was over £10 (about A$18).

When estimating the number of downloads and installs, this makes up a potential revenue of £457,711,200 (over A$836m) for mobile app developers.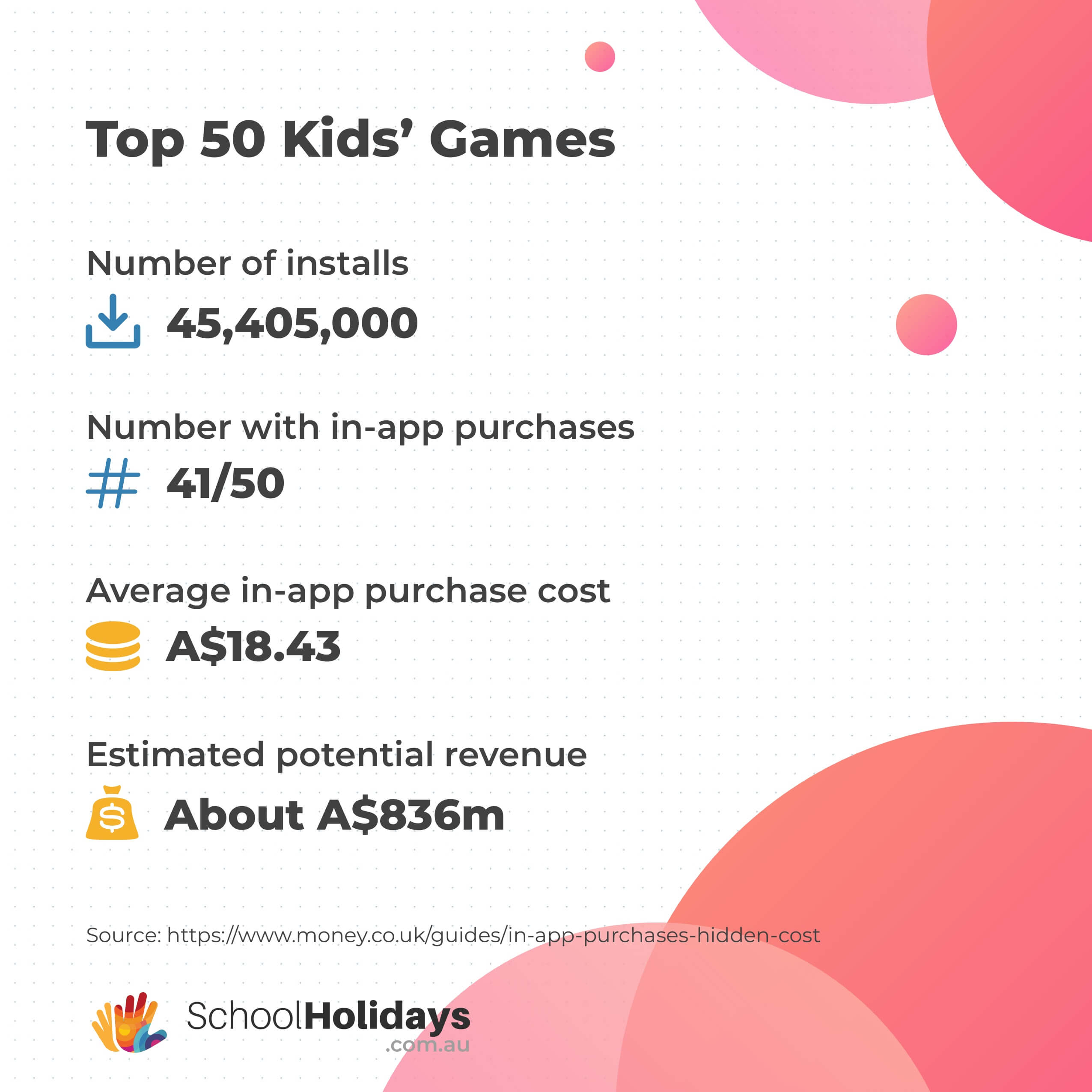 ---
How to keep control of your kids' online and/or app spending
Ilya Furman, who recently sued Apple on behalf of their client, advises parents to be aware of the technical, practical and legal avenues available to prevent a budgetary incident and keep control of your kids' online and/or app spending:
Technical
Apart from excluding the very possibility of unwanted credit card expenses by removing your card details from the relevant device, spend the time to familiarise yourself with the settings and restrictions that are available to you.
You can search the web for your specific device and operating platform to guide you through the steps you can immediately take to keep control of your child's preferred devices.
Practical
Depending on your child's age, awareness and your level of trust, do not underestimate the effect of direct engagement with the little monster. You may just be surprised by how much you will learn about the world as they see it.
It may even help you understand the driving forces behind their gaming and online habits and ultimately enable you to have a positive, lasting effect on their behaviour.
Legal
If all technical and practical methods fail, there are still several further legal steps you may have at your disposal.
As with everything legal, this article does not constitute legal advice, and your actual recovery options will depend on your circumstances, but you can generally expect to be able to do the following:
Contact the app store to request a refund (you can do it here for Apple and here for Google devices).

Contact your bank to object to any unauthorised charges appearing on your credit card. Through the merchant rules, your bank may have the power to effect a chargeback, but there are usually strict timeframes within which this can be done, typically within 30 days.

Contact your telecommunication provider if an unauthorised charge appears on your phone bill (you can escalate your complaint with the Telecommunication Industry Ombudsman).

Complain to the ACCC, your state consumer affairs organisation, or

Last but certainly not least, if the matter warrants the effort, make a complaint through your state's tribunal or seek legal advice.
In the vast majority of cases, it isn't viable to engage lawyers to challenge unauthorised charges incurred by your child, but the power to do so is always there if you need it.
⭐ 🍿🥤 🎥 With those pesky in-app purchases under control, it's time to pop the popcorn and fluff up the pillows for your next family movie night! Swing by our 'Best Kids Movies' page to discover a collection packed with kids and family films that are sure to turn your living room into a thrilling adventure for the whole family!
---
How to disable in-app purchases on Apple and Android devices
As a parent and a consumer, you have a choice to either turn off in-app purchases completely, prevent certain types of purchases, or require a password for every in-app purchase made on an Apple device.
In your iPhone settings, you can navigate to Screen Time to prevent such unintentional and unauthorised purchases from the App Store and other Apple services. Apple provides a comprehensive step-by-step guide to enable it.
The ACCC also gives detailed instructions on how to disable in-app purchases on Apple and Android devices.
If you need more information on how to prevent accidental purchases on your Android device from apps and games at Google Play, you can read a helpful Google article here.
---
The digital world we live in today offers endless exciting possibilities and entertainment, but it is still important to be aware of the hidden costs that we are subjected to.
Help us spread the word! Feel free to share this post with your friends and family.