Calling all kids, teens and families! We all love competitions, giveaways and freebies, so on our website for school holiday activities, you can find the best Australian and New Zealand competitions for kids, teens and families.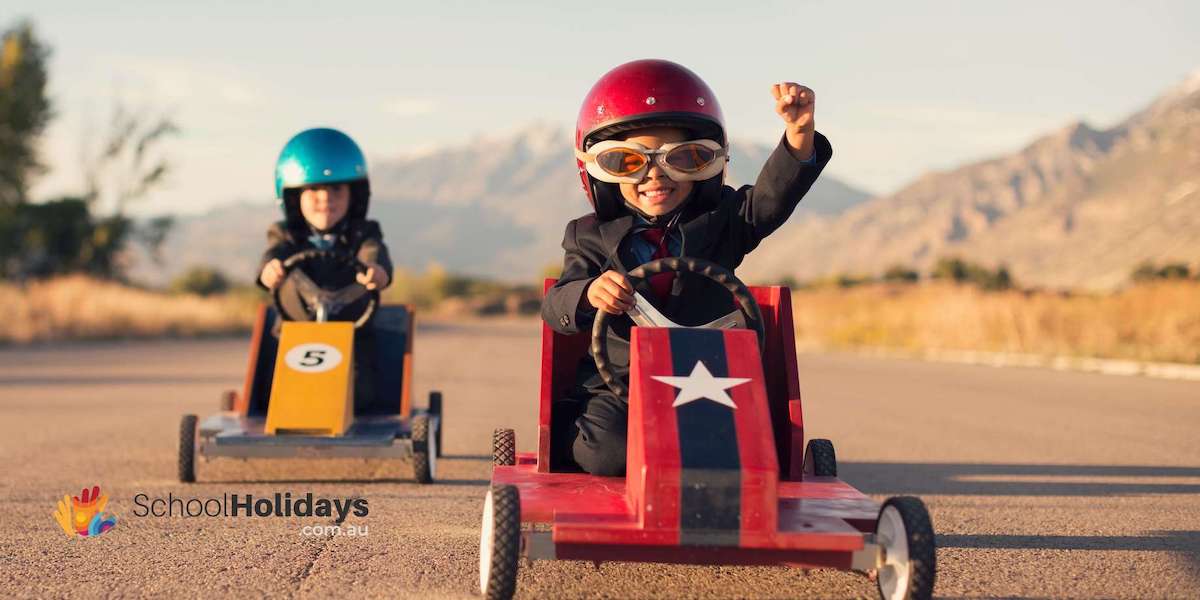 ---
What competitions can kids enter?
Kids Competitions at schoolholidays.com.au offer a number of awesome contests for primary school kids through to high school students from Australia and around the world.
From design, colouring-in and art competitions to creative writing, poetry competitions and even business pitching, there are lots to discover and try out! We welcome you to explore our Kids Competitions space today.
Choose a competition to enter today for a chance to win awesome prizes!
Don't forget to share your favourite competitions with your friends and enjoy some fun and competitive spirit! Let's spread the word about online competitions at schoolholidays.com.au!
😄📢 Want to submit a competition or giveaway so more kids, teenagers and families can enter? Get in touch with our team today and tell us more about your kids competition!
Our mission at schoolholidays.com.au is to encourage children to experience exciting adventures and try something new. We offer parents and carers like you more opportunities to find the best activities and things to do for your family.
Head to our Competitions space today and find the best competitions around Australia, New Zealand and internationally, all in one place! Learn new skills, get creative and win great prizes!
We wish you the best of luck!
---
Why are competitions good for kids?
Many of us, parents and carers, want to encourage the kids to learn new skills, try new hobbies and interests and step out of their comfort zones.
Participating in contests like art, writing and poetry competitions are great activities that keep them engaged at home with a new hobby and have many other benefits.
The main benefits for kids in entering competitions are:
Develop creativity

Try a new hobby and learn new skills

Prepare for the real-world challenges

Develop and improve skills

Improve academic performance

Foster resilience and an open mind

Learn how to handle pressure

Handle fear of competition

Learn to try their best

Set and achieve goals

Build self-esteem and confidence

Learn self-discipline to get results

Discover more opportunities

Discover and support an important cause

Generate innovative ideas

Enjoy competitions, as they are fun!
Below, you'll find more details about the main benefits and reasons for your kids to enter competitions.
---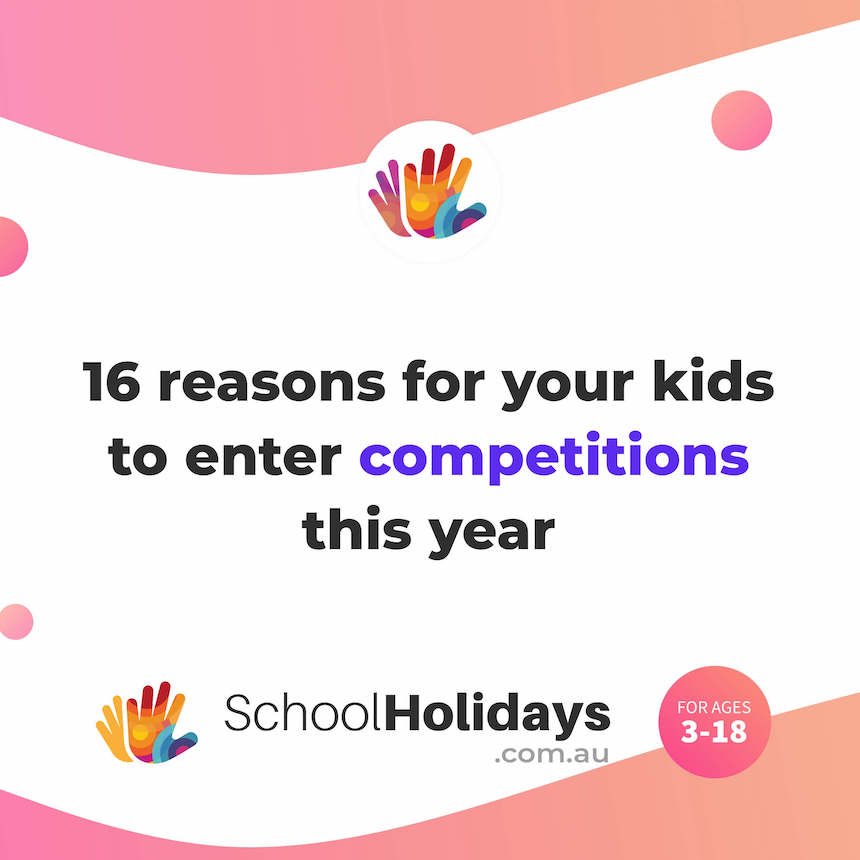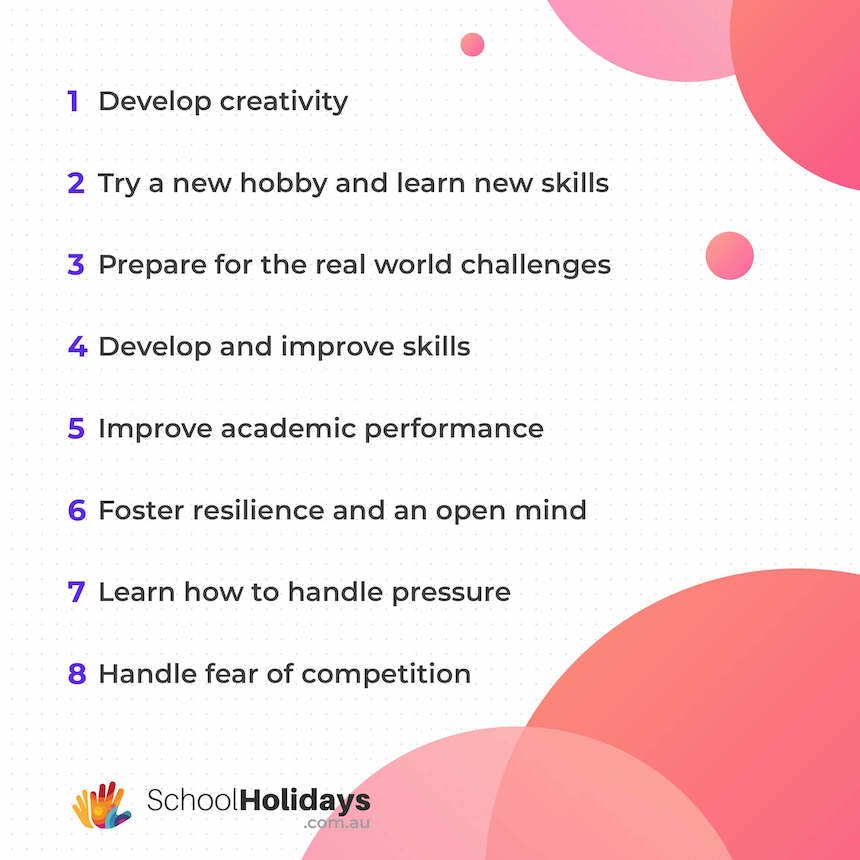 ---
Developing creativity
Most competitions require kids to think out of the box and develop original and creative ideas. An example is the kids writing competition by Little Stories, Big Ideas.
It's a great challenge for secondary school students to write an original micro-fiction story in 100 words or less on a new theme each school term.
---
Try a new hobby and learn something new
Trying a new skill or activity can be a great way to discover a new hobby, interest or passion and learn something new.
Kids that have never written a short story before can have a go at creating one with one of the awesome writing and illustration online competitions for kids and teens of all ages that invite them to get creative and make their own picture book, a chapter book for early readers or a start to a fiction novel for teens.
---
Preparing our kids for the real world
Competitions allow kids to understand what it means to have competition and prepare them to face the real world and its competitive environment.
---
Kids develop and improve their skills
Competitions encourage children to learn something new and develop their unique skills and passions.
For example, the kids photo contest by Australian Photography Magazine can help kids develop their photography skills, eye for detail and creativity. There is a new theme every month, so you can keep entering all year long and win some awesome prizes, too!
---
Kids can improve their academic performance
Research has shown that competitions can have substantial effects on attention span and memory, and they encourage kids to work harder and study more, which boosts their self-confidence in the long run.
Many competitions these days are also entertaining. Who doesn't like games and quizzes? They make the whole experience fun and exciting, all while setting kids up for academic success.
---
Kids learn to try their best to win
If they don't win or don't participate, it can be a great opportunity to notice what areas need to be improved to get better results next time. This is a great way to foster resilience, optimism and an open mind.
I have been up against tough competition all my life. I wouldn't know how to get along without it.
- Walt Disney
⭐ 🎉  Feeling inspired? We certainly are! If you and your little ones enjoy timeless Walt Disney's adventures, make sure to check out our list of the best Disney movies of all time!
---
Kids learn how to handle pressure
Kids learn how to handle pressure and keep their nerves when they are outside their comfort zone. This helps them learn to cope with stress later on in their lives.
---
Kids learn to find the courage and handle the fear of competition
As soon as kids start participating in different types of competitions, they get used to the experience and are much more confident and relaxed in the face of challenges. The fear of failure disappears as it's not as scary as they thought before!
---
Kids learn how to try their best
When kids compete, they learn that the best motivation is to give their best effort to win. And if they aren't satisfied with the results, they can discover how to improve to get better results in the future.
---
Goals and increased motivation
Kids learn how to set and achieve goals, increasing their motivation. Also, goal setting provides clear tasks and deadlines and requires regular progress checks.
Having set aims and working to fulfil them is a very useful life skill to have.
Competitions help transform potential into success and they are a great way to celebrate your child's skills and achievements!
---
Kids become more confident
Kids' competitions can help build self-esteem, as a child's self-confidence can only be developed by achieving goals and facing challenges.
That's what we, parents of shy kids, wish for! Knowing how to try their best, learning new skills and how to handle adversity are some of the best ways to build self-confidence in our children.
---
Kids learn self-discipline
When kids want to participate in various competitions and get the results they want, they learn more about discipline and commitment to take small and simple steps and actions to achieve their goals.
---
Kids have more opportunities
They can explore fields they find interesting to find what they are passionate about and become more active in achieving their goals and making new connections.
---
Kids enjoy competitions
Kids enjoy competitions as most of the time they are great fun. Many competitions these days are so unique and creative.
---
Innovation and revolutionary ideas
Kids become more mature and gain real-life advantages. In adult life, competition leads to innovation and the creation of new revolutionary ideas. That's why it is important to start building that foundation for kids' future success from a young age.
---
Discover and support an important cause
Many kids' competitions have themes that raise awareness about ongoing issues around the world, such as climate change and animal conservation.
Kids should have an understanding of these, and they may even be inspired to become activists for an important cause.
Whether you're a parent, grandparent or carer, or simply looking for something to keep the kids busy over the rest of these summer holidays, we have an awesome online colouring competition by The Surf Life Saving Foundation with some great prizes up for grabs.
---
To sum up, competition for kids in any form can be beneficial and rewarding, as long as those competitions are healthy and not overwhelming for the kids' mental health.
It's not just about winning. It's about the spirit, the motivation, the process and the learning that occurs during competition.
At the end of the day, for our kids, it's all about trying their best and enjoying themselves.