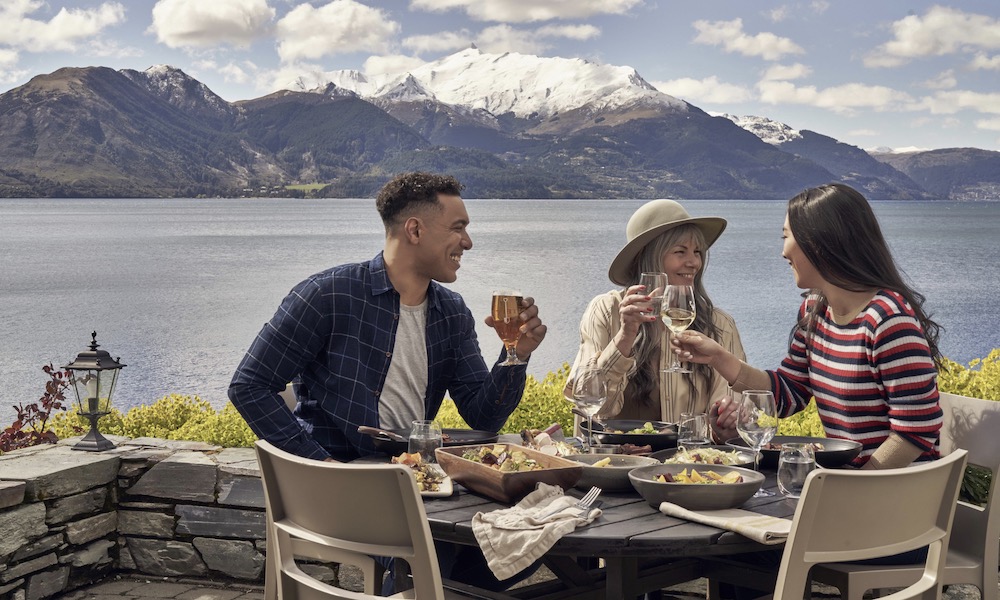 Walter Peak Evening Dining Cruise
An evening cruise on the TSS Earnslaw Vintage Steamship and dining at the Colonel's Homestead at Walter Peak - the perfect way to spend a Queenstown night!
Highlights
Fully licensed bar on board
Return Cruise on the TSS Earnslaw
Gourmet BBQ Dinner at Walter Peak
Scenic Cruise across Lake Wakatipu to Walter Peak
What you need to know
Add even more enjoyment to your TSS Earnslaw Cruise / Walter Peak High Country Farm experience be taking part in this evening cruise that follows up the charming journey across the water with a delicious evening of dining at the Colonel's Homestead. A choice of two different dinner options ensuring there is a meal that suits all comers are available - vegetarians included! Take your pick from two delectable choices - a BBQ Dinner consisting of a range of traditional NZ cuisine with soup, seafood, roast meat, roasted and steamed vegetables with salad plus a selection of homemade desserts and freshly brewed tea and coffee, or a Homestead Roast option with a choice of either delicious roast beef or lamb (or the vegetarian dish of the day) accompanied by garden-fresh vegetables. The meal is capped off with a delicious desert and freshly brewed tea or coffee.
Once you've finished dinner, you'll be able to witness an entertaining farm demonstration that offers a window into authentic high country farming life. Re-board the TSS Earnslaw for a return cruise to enjoy a drink in the saloon or a stroll on the moonlit decks as you soak in the magical views of the lights of Queenstown.
More info
Inclusions
Return Scenic Cruise across Lake Wakatipu to Walter Peak High Country Farm
A farm demonstration with sheep shearing and working farm dogs
Delicious gourmet BBQ dinner prepared in front of you on the outdoor BBQ and rotisserie
Interpretation handouts: English, German, Portuguese, Japanese, Thai, Korean, and Chinese
Highlights
Passengers are welcomed and escorted through the lakeside gardens to the Colonel's Homestead where they are seated for dinner
The resident pianist provides background music and on colder nights open fires create a cosy atmosphere
A range of wine and other beverages are available for purchase from the bar
Following the meal, visitors have the option of a brief farm show or relaxing in the bar before returning on board the TSS Earnslaw to Queenstown
Time
Operates from August to May
Departs at 6.00pm and returns at 10.00pm
From 1 December 2022 tours depart 5pm and 7pm
Departure Location
Tours depart from the Earnslaw Visitor Centre, Steamer Wharf
Sample Menu
Fresh breads baked daily onsite; antipasto selection; fresh salads including baby spinach salad, quinoa salad, beetroot salad and garden fresh green salads, herb crusted butternut squash, roast perla potatoes; seafood selection including smoked mackerel, home cured Stewart Island salmon and Cloudy Bay clams; an outdoor grill consisting of spiced chicken, slow roast pork, Cardrona lamb leg, Southland beef, sardines, market fish, all with a selection of condiments; dessert selection including crème brulée, white chocolate panna cotta, sticky date pudding, chocolate mousse, apple and rhubarb crumble, fresh fruit, local cheeses and baked slices. Freshly brewed tea and coffee is included.
Additional Information
Child rates apply for 5 - 14 years and infants 0 - 4 years carried free of charge
Please note that between 28 June - 30 September a minimum of 20 adults will be required to operate this excursion. Should the numbers not be reached, you will be able to move to another day or alternatively a refund offered
Full bar services operate on board the TSS Earnslaw as it cruises to and from Walter Peak and in the Colonel's Homestead
Booking Information
Confirmation in the form of a tour voucher will be received at time of booking
Upon completion of purchase, please print the voucher and present on day of the experience
For your information, complete Tour Operator Information including contact details is included on your tour voucher
Availability was accurate at the time of booking however, is subject to change due to circumstances out of our control. We strongly suggest reconfirming your booking with the tour operator within 24 hours of making your booking and prior to making other travel arrangements
Prices are seasonal and are constantly changing. The from price displayed may not always be the price you are going to pay, as once you click on your specified date, the price will change to reflect the price for that date/season. Please note that in some cases where you cannot click on a date to obtain the price, please call us so we can assist you
Important notice
Confirmation in the form of an e-voucher will be sent to your email at the time of purchase. Although we do our best to deliver it instantly, occasionally, this may take up to 6 hours for the e-voucher to be delivered. For any queries, please get in touch with us . We're always happy to help.