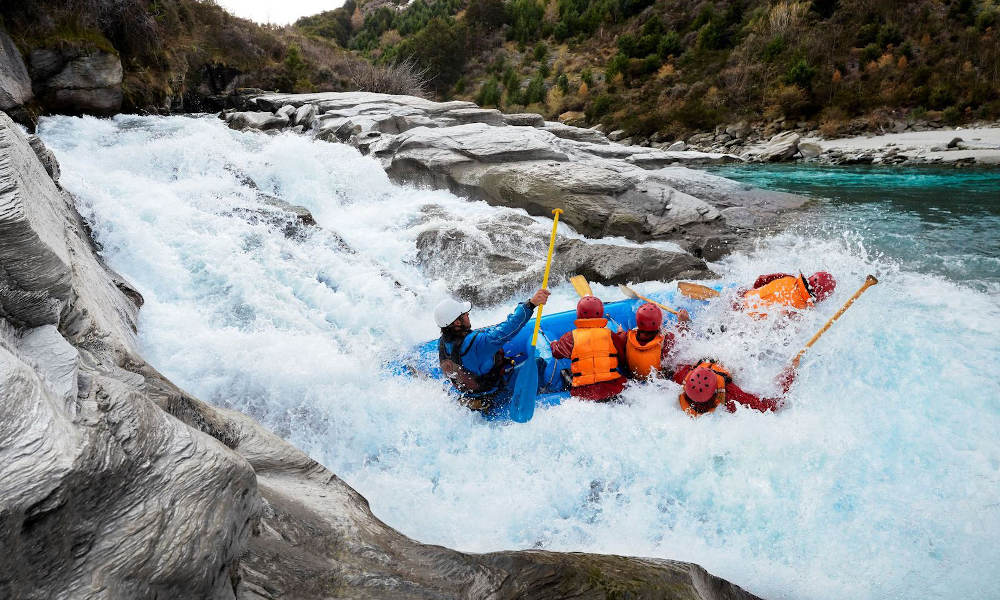 Kawarau River Jet to Raft
Combining two Queenstown adrenaline activities, jump on an exciting jet boat ride delivering you to a white water rafting adventure on grade 2-3 rapids.
Highlights
Four separate rapid sections
Stunning scenery on calm water
What you need to know
Couple two Queenstown adrenaline activities together in one combo and take a 25 minute jet boat ride transfer to your white water rafting adventure. The Kawarau River is the ideal Queenstown whitewater rafting destination for an introduction to the sport, with four rapids that provide a great balance of excitement and scenic enjoyment. Navigate a high-speed ride down Lake Wakatipu to Kawarau River where your whitewater rafting guides are awaiting your arrival.
Now, its time to encounter rapids ranging between grades 2 to 3, with a route taken to suit the group's ability level. Between rapids, you'll experience some calm stretches of river coupled with a unique perspective of the historic Kawarau Bungee Bridge that your raft will gradually pass under. Capping off the rafting adventure and acting as a "Grand Finale" is the highly memorable, 400m Dog Leg Rapid that will give you a final rush for the day and provide a fitting end to your whitewater rafting adventure on New Zealand's largest volume commercially-crafted river. The adrenaline packed half day activity is available to book online here.
More info
Note
Whitewater rafting is not available throughout Winter.
Inclusions
2hr whitewater raft on the Kawarau River (grade 2-3)
Jet Boat ride to the raft put in (25min in Winter/ 30min in Summer)
Transfer from Rafters Road back to base
Full wetsuit, rafting clothing and safety equipment
Extensive safety briefing
Hot showers
Highlights
Enjoy a jet boat ride to the raft
Plenty of opportunities to splash around
Try a cliff jump or even swim through a rapid
Between rapids you will experience calmer stretches of river
Float through the rocky cliffs and blue waters of the Kawarau River
Finish your trip with the 400 metre Dog Leg Rapid
Time
This tour departs at 9am all year round. Please ensure you arrive 20 minutes earlier for check in.
Departure Location
Departs from the 35 Shotover Street, Queenstown
What To Bring
Change of dry clothes
Swimming costume and towel
Snacks or money for snacks
Camera, videos and personal items are carried at owners risk
We provide wetsuit booties so you can wear your normal shoes to get to the rafting base
Additional Information
We recommend valuables are left at accommodation (i.e. passports/travellers cheques/jewellery etc.) The Supplier takes no responsibility for travellers belongings
The minimum age for rafting is 13 years, with a minimum weight of 40kg
Rafting is not available to clients weighing over 120kg
Rafting with a heart condition or while taking heart medication is not permitted
Rafting while pregnant is not permitted
Rafters under 16 years must have a guardian travel with them and have a child waiver signed by a guardian
Rafters under 18 years require a child waiver form to be signed by a guardian
Clients must be water confident and able to swim in fast moving water
The supplier reserves the right to refuse clients should they be considered unsuitable due to their ability to communicate in English, physical size, poor health, fitness or intoxication. Please contact the Supplier if you are unsure of client suitability (contact information provided after booking)
The river grade is 2-5 and the Kawarau River varies in difficulty according to river levels. Please contact the Supplier if you are unsure of traveller suitability (contact information provided after booking)
We require a minimum of 8 people to run the trip, so please note your booking will be on stand-by until these minimum numbers are met. Should these minimum numbers not be met, you may be moved to the earlier or later departure time, moved to another date or alternatively refunded. Please note, this happens very rarely as this is a very popular experience
The Supplier reserves the right to cancel or amend any trips due to river, road or weather conditions, or insufficient numbers. In this case they will notify you on the day
Clients must listen carefully to and follow guides' instructions and adhere to all safety requirements
Participation in rafting activities involves a degree of risk and the rafting operator cannot absolutely guarantee participants safety. All clients will be required to sign a disclaimer prior to departing
Risk Disclosure
Participation in rafting involves inherent risks and potential hazards; the Supplier cannot absolutely guarantee participants safety and certain situations may result in serious harm or death. The risks and hazards include but are not limited to: rapidly changing and sometimes extreme water conditions, cold water, limited rafting landing sites transport to and from the river, the river and its fluid nature, raft flips, fast moving and/or deep water, rocks, landslips and/or equipment failure. Detailed risk management and strict safety procedures are observed, however, there still remains an element of risk. The supplier accepts its legal responsibilities but cannot be held responsible for personal injury or for loss, theft or damage of/to your equipment outside legal responsibilities. Participants will be required to sign a liability form to this effect before starting a tour. Changing conditions can mean that tours have to be modified. No two tours are the same. Clients on guided tours must listen carefully to and follow guides' instructions and adhere to safety requirements
Booking Information
Confirmation in the form of a tour voucher will be received at time of booking
Upon completion of purchase, please print the voucher and present on day of the experience
Mobile Vouchers are accepted! - Vouchers can also be presented on your mobile device for this attraction
For your information, complete Tour Operator Information including contact details is included on your tour voucher
Availability was accurate at the time of booking however, is subject to change due to circumstances out of our control
We strongly suggest reconfirming your booking with the tour operator within 24 hours of making your booking and prior to making other travel arrangements
Important notice
Confirmation in the form of an e-voucher will be sent to your email at the time of purchase. Although we do our best to deliver it instantly, occasionally, this may take up to 6 hours for the e-voucher to be delivered. For any queries, please get in touch with us . We're always happy to help.