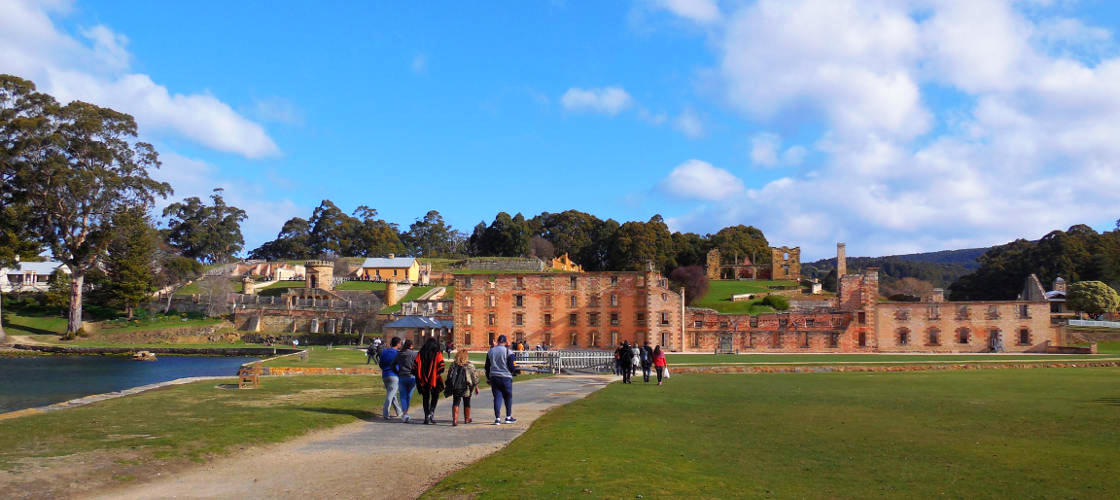 Port Arthur Historic Site Entry including Walking Tour & Cruise
See all the best of the Port Arthur Historic Site with this great value pass that includes 2 consecutive days' access plus a lovely Carnarvon Bay cruise.
Highlights
2 days' access to Port Arthur site
Includes Carnarvon Bay cruise
Includes 40 min guided tour
Over 30 historic buildings
Museum & Convict Study Centre
What you need to know
See all the best highlights of the World Heritage-listed Port Arthur Historic Site with this great value pass that includes two consecutive days' access to the site plus a lovely Carnarvon Bay cruise - all at one low price. Gain access to over 30 incredibly interesting historic buildings all within walking distance of one another and take in an essential dose of some of Australia's colonial convict history. Join your friendly, experienced and knowledgeable tour guide for a fun, interactive 40 minute guided walking tour that will explain to you in detail all the facts - both past and present - of Port Arthur and its surrounds.
Next, relax and enjoy a wonderful cruise around the Carnarvon Bay itself, taking in the ruins and architecture from an entirely different vantage point. Take your time to explore the site in detail, and visit its many other interesting tourist points such as the Interpretation Gallery, Museum & Convict Centre, the Dockyard and much, much more. Port Arthur is a must-do item on any Aussie or overseas visitor's bucket list - so book a tour online today and immerse yourself in Australia's convict past.
More info
Note
Proof of vaccination or medical exemption may be presented to staff or agents of PAHSMA at the entrances as a condition of entry through a COVID-19 digital certificate (either from myGov or the Check in TAS app), Immunisation History Statement from the Australian Immunisation Register, or an equivalent document from another country.
Inclusions
Access, for two consecutive days, to the Port Arthur Historic Site
Introduction to Port Arthur walking tour
Carnarvon Bay cruise (Port Arthur)
Play the Lottery of Life using the playing card you are issued. Discover which convict your card represents and a little about his time at Port Arthur
Highlights
Join an expert guide for an overview of the story of Port Arthur
Interpretation Gallery
Museum & Convict Study Centre
Located in the former Asylum adjacent to the Museum Coffee Shop, a fascinating display of objects made and used at Port Arthur. You can also search our convict database
Convict Water Supply Trail : Start adjacent to the dam behind the Hospital and discover an engineering wonder; finish at the Commandant's House
Dockyard: A short walk from the jetty, this innovative project brings the hustle and bustle of the dockyard to life
Time
Port Arthur Historic Site, Arthur Highway, Port Arthur
Once you have received your voucher, please call the operator to book your cruise and tour time (The operator contact details will be printed on your voucher)
Walking Tour - 40 minutes approx
Carnarvon Bay Cruise - 20 minutes approx
The Port Arthur Historic Site is at the southern end of the Tasman Peninsula, a 90 minute drive (95 kilometres) south east of Hobart along the Tasman (A3) and Arthur (A9) Highways. Please arrive at least 15 minutes prior to your scheduled tour
Additional Information
Tours cover a walking distance of about two kilometres on moderate grade terrain, so comfortable, practical walking shoes are recommended
Tours proceed in all weather, including rain, and tickets are not refundable
Please note that tours may not be suitable for young children. We recommend that you contact us in advance if you are unsure about suitability for your children
Family pass covers 2 adults and up to 6 children
Booking Information
Confirmation in the form of a tour voucher will be received at time of booking
Upon completion of purchase, please print the voucher and present on day of the experience
For your information, complete Tour Operator Information including contact details is included on your tour voucher
Important notice
Confirmation in the form of an e-voucher will be sent to your email at the time of purchase. Although we do our best to deliver it instantly, occasionally, this may take up to 6 hours for the e-voucher to be delivered. For any queries, please get in touch with us . We're always happy to help.