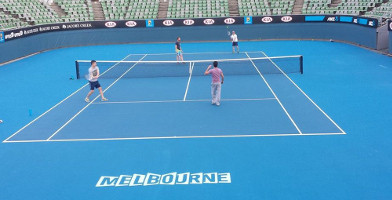 Play Tennis on a Grand Slam Court and Sports Lovers Tour
City sightseeing for tennis fans. Visit Australia's favourite sporting venues and experience the thrill of playing tennis on the world famous courts.
Highlights
Play tennis on a Grand Slam Court
Lunch at the Etihad Stadium/Docklands Precinct
What you need to know
Visit the venues that play host to some of Australia's favourite sporting events. Sit in the coach's box, media centres and exclusive member areas. Smell the liniment in the change rooms and walk on the hallowed turf. Visit Flemington Racecourse, home of the Melbourne Cup – the race that stops the nation. Drive through The Commonwealth Games 2006 Village and around Albert Park, on the Melbourne F1 Grand Prix Circuit alongside Melbourne Sports & Aquatic Centre. Tour the Melbourne Cricket Groumd. The "MCG" is a super stage for Australian sport, stadium for the 1956 Olympics, International Cricket and Australian Rules Football OR choose entry into the interactive National Sports Museum at the MCG.
Enjoy lunch at the Etihad Stadium/Docklands Precinct. An unforgettable experience for sports lovers.
PLUS visit Rod Laver Arena at Melbourne & Olympic Parks, one of the world's busiest sports and entertainment precincts. See the players' change rooms where the top tennis players prepare for victory at the Australian Open Championships each January. Experience the thrill of walking onto Rod Laver Arena and Margaret Court Arena. Go backstage and explore the stars' dressing rooms. Delve into the history of concerts and sporting events held at the various arenas in the area. Experience the excitement of Grand Slam tennis and play on the same courts as the world's best players.
More info
Note
Please note, this tour is no longer available and we are currently in the process of removing this listing
Inclusions
City Sights, Rod Laver Arena and MCG Tours
1 hour of tennis including racquet and ball hire
Tour Melbourne & Olympic Parks (Rod Laver Arena & Margaret Court Arena), one of the world's busiest sports and entertainment precincts
Enjoy an insiders point of view as you are taken through Australian Open tournament control, the change rooms used by the world's best tennis players, the Walk of Fame, up to the super boxes and VIP hospitality areas, inside the media centre theatre and events permitting, onto the Arena
Experience the excitement of Grand Slam tennis and play for one hour on the same courts as the world's best players
Cafe Style lunch is included in the Docklands precinct
City Hotel pickups on request
Time
Tours depart Monday to Friday at 8.30am and return at approximately 5.15pm
Please note, from 1st April 2019 tours will be running on the following dates only;
April: 5, 24
May: 3, 6, 9
June: 7, 11
July: 5
August: 2, 30
September: 6
October: 4, 25
November: 1, 6, 8
December: 6
Location
Tours depart from Federation Square (outside Ian Potter NGV Gallery/Melbourne Day Tour Centre)
What To Bring
Camera
Plenty of Energy
Tennis Shoes
Comfortable Clothing
Additional Information
This tour requires a minimum of 2 people per booking. Single person bookings will not be accepted
Rod Laver Arena not available mid December - mid February due to Australian Open Tennis Championships. Please choose a different Sports Lovers afternoon option during this period
City Hotel pick ups available on request. Once your booking is confirmed, you will receive a confirmation tour voucher with complete tour operator details. If a pick up is required, you will need to contact the tour operator a minimum of 48hrs prior to your day of travel to reconfirm your tour and your pick up details
Minimum of 6 people for tour to depart
Booking Information
Confirmation in the form of a tour voucher will be received at time of booking
Upon completion of purchase, please print the voucher and present on day of the experience
Mobile Vouchers are accepted! - Vouchers can also be presented on your mobile device for this attraction
For your information, complete Tour Operator Information including contact details is included on your tour voucher
Availability was accurate at the time of booking however, is subject to change due to circumstances out of our control
We strongly suggest reconfirming your booking with the tour operator within 24 hours of making your booking and prior to making other travel arrangements
Important notice
Confirmation in the form of an e-voucher will be sent to your email at the time of purchase. Although we do our best to deliver it instantly, occasionally, this may take up to 6 hours for the e-voucher to be delivered. For any queries, please get in touch with us . We're always happy to help.