Creative, Entertaining and Educational Online Classes For Kids
It's not news that lots of Aussie businesses who provide services for kids have been heavily impacted by the COVID-19 lockdown and school closures. While their doors are closed, most of them have not stopped their services and now live stream their kids activities and popular classes online.
Here is a complete list of fun online classes for kids of different age groups, abilities and interests to enjoy at home provided by the experienced teachers and educators. All online classes are designed and run by Australian service providers.
Some of the best dance, creative, entertaining and educational classes for kids are:
---
Please note that fees mentioned in this post are valid on the post's publication date and are subject to change by the service providers without any additional notice.
---
Online coding and robotics classes for kids
Online coding and educational games with CodeSpark Academy
Looking for a screen time activity that will keep your kids entertained and teach them essential problem-solving skills? Look no further than CodeSpark Academy!
With unlimited coding challenges and new skills developed every week, your child will learn creative problem-solving, logical reasoning and resilience. Plus, with no strict grades or homework, they'll have fun while learning and boost their confidence!
CodeSpark Academy is the perfect and fun way to introduce your little one to the world of coding! With The Foos, they'll be able to work their way through fun and engaging puzzles, learn how to code and the basics of computer programming along the way.
Kids 5-9 years old will have a blast playing the game and solving hundreds of educational puzzles. CodeSpark Academy offers a 7-day free trial and access for up to 3 children per account.
Online coding and educational games with CodeSpark Academy
CodeSpark Academy is one of the best learn-how-to-code online app. The educational puzzles and games are perfect for kids of 5-9 years old.

CodeSpark Academy makes learning the basics of coding fun, easy, exciting and engaging!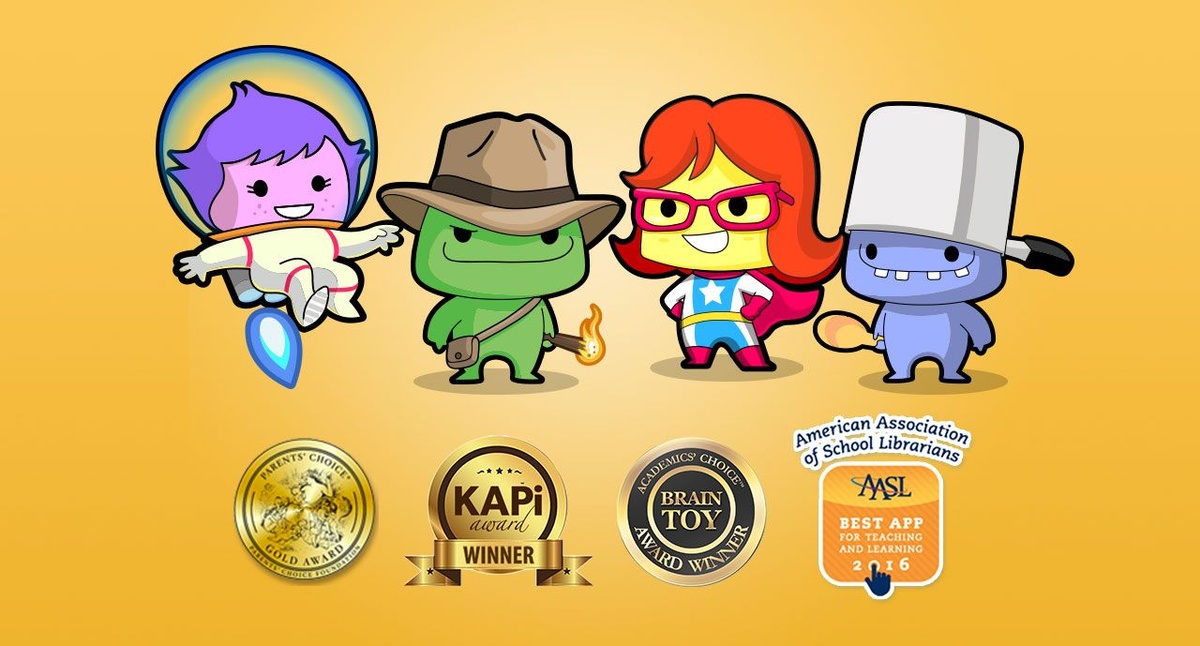 ---
Online coding classes for kids at Kodarit
Kodarit offers online coding classes, that are fun, challenging and diverse. Coding classes are available for kids 6-17 years old!
With Kodarit, the kids learn how to code from the comfort of their own home and develop games and app design skills.
The courses are based on levels so that students can start at the level that is appropriate for them. In their free introductory lesson, the kids learn what an algorithm is and get familiar with computer science and visual programming – all while having a lot of fun!
Kodarit Online Coding Classes For Kids
Kodarit offers online coding classes, that are fun, challenging and diverse. We believe that coding is for everyone!
School Holidays
---
Computer Coding and Robotics course at STEM Birds
STEM Birds offers a variety of Computer Coding and Robotics courses for primary school children to ignite their inner inventor.
They offer term classes, holiday programs, workshops and online coding classes that help kids understand robotics, science, education and STEM concepts from an early age. Get creative and a start your kid's journey to an exciting new digital world.
Learn more about their STEM coding and robotics introduction workshops here:
STEM Birds Coding & Robotics Workshops
STEM Birds Coding and Robotics Introductory Workshops
School Holidays
---
Online learning activities for kids
Online learning and kids classes with Kids Unlimited
At Kids Unlimited holiday programs, participate in a wide range of education kids activities including chess, coding, drama, cooking, public speaking, entrepreneurship, paper planes, physics, animation, music and singing, astrology and more. Great fun classes for kids 5-12 years old.
If your budding chef love cooking, check out these recipes that you can cook together for more fun: best hot cross bun recipes and yummy lunchbox snack ideas.
Kids Unlimited are Australia's leading provider of extra curricular activities. Each session is run live stream and in small groups. All of the coaches presenting the sessions are experts in their field.
Try a 40-minute 'enrichment sampler' session where children experience a wide range of kids activities. They will be in groups with like-minded children. The 60-minute classes every week enable children to get more in-depth knowledge in their field of interest (pro-rata fees apply for joining mid-term). Classes include some theory and practical components.
The Kids Unlimited programs include a range of different kids activities to provide education, entertainment and routine whilst children are at home.
Kids Unlimited Virtual Holiday Program
Enjoy our many kids activities like chess, coding, drama, cooking, public speaking, entrepreneurship, paper planes, physics, animation, music and more.
School Holidays
---
Online music lessons for kids
Online music classes for kids with Penny Lane's Music Workshop
Penny Lane's Music offers relaxed and fun 30-minute private lessons in any musical instrument as well as voice lessons. While delivering all the elements of musical theory and practice, they allow the lessons to be 'student-led' in terms of exploring the musical styles. Penny Lane's kids music classes are for all kids ages. Each class is $33.
Taught by a team of qualified and talented teachers and educators who are committed to sharing the positive mental and physical health benefits of music with the students and communities.
Enrol anytime to enjoy personalised one-on-one music lessons from the comfort and safety of your own home.
Private, buddy and whole family lessons available.
Penny Lane's Music Workshop - Online Classes
Vibrant, community focused music school where kids in a relaxed and fun focussed way that enhances their engagement and their results.
School Holidays
---
Online music classes for kids & baby music classes with Baby Love Music Fun Now
Looking for music classes for kids in Melbourne? We've got you covered! BLMF is a world-leader in teaching music with embedded milestone development and neuromusical science. BLMF Now is not a passive experience but rather babies, toddlers and preschoolers all need an adult to do the class with them.
The interactive music classes for toddlers are 40 minutes long and are highly engaging - both the parents and kids are learning together. They are a fusion of high quality music, neuromusical and early childhood development science and emotion (with focus on parents/child connections).
In these baby music classes Melbourne you will teach kids and help develop an emotional connection with your child through music while accelerating your child's learning ability and neural development and ensuring a life-long interest and love of music!
BLMF has various class options including Live Stream Group and Private Zoom Classes and On Demand with BLMFNow, and you can pick whichever one suits you best.
BMLFNow - Baby Love Music Fun Now
BLMF is a world-leader in teaching music with embedded milestone development & neuromusical science. Join our online classes today!
School Holidays
---
Ballet and dance classes for kids online
Online dance classes - ballet for kids with Ballet Time
Looking for the 3 year old ballet class ideas or virtual classes for 3 year olds? Look no further! Ballet Time's focus is making ballet accessible for everyone. Their online dance lessons for kids mean that toddlers and older children can learn ballet anywhere, any time, through any smart device!
With a team of experienced dance teachers backed by education qualifications, who share their expertise and passion for cultivating the life-long benefits of ballet on the mind, body and spirit. Check out these ballet lessons for 5-6 year olds and three year olds. Through 3 x 10-minute new recorded lessons and videos per week delivered by way of 3 month courses (for $24.99 per month).
Ballet Time students can engage in an interactive, dance-based practice with an educational focus that embeds literacy, numeracy and mindfulness skills. With access to 12 recorded lessons and videos per month, students will participate in warm up exercises, ballet, hip hop and jazz fundamentals, cool downs and stretches. These sequences support children develop coordination and spatial awareness, whilst fostering creativity and learning in an environment that suits you!
A 3-month course is $70 upfront or $25 per month for three months.
Ballet Time - Online classes - Learn Ballet At Home
We provide online ballet classes for 3 year olds, 5 year olds, 6 year olds and toddlers streamable anywhere at anytime! Join now.
School Holidays
---
Dance classes online for kids with Dance Habit
If you're looking for the fantastic preschool ballet class ideas, discover your inner performer with Dance Habit's online dance classes Australia. Choose from a variety of styles for kids from 2 years olds and 3 years olds through to high school age. Dance Habit offers activity classes for 3 year olds and up and dance classes for toddlers in Melbourne.
Fun dance classes for kids are a fantastic way for children of all kids ages to develop confidence, self-awareness and coordination while making friends and learning new skills in a fun and nurturing environment. Through dance, we stay connected.
Dance Habit Online Dance Classes
Welcome to Dance Habit! We provide a wide variety of kids dance classes for 3 year olds and children of all age groups.
School Holidays
---
Online dance classes for kids with Indooroopilly Dance Co
Looking for baby dance classes, pre-school dance classes or dance classes for 19 year olds? Look no further! Dance your heart out at Indooroopilly Dance Co.
All are welcome to express themselves through dance and movement. Choose from a range of classes for beginner dancers of all ages as well as dancers with special needs.
Their supportive close-knit family atmosphere as well as flexible packages and family discounts ensure an affordable and enjoyable experience for everyone.
Dance Classes With Indooroopilly Dance Co
Want to learn how to dance? Online dance classes for 3 year olds through to 17 year olds. A wide range of genres where no previous experience is required. Flexible class packages.
School Holidays
---
Online Hoop Fit and Hoop Dance classes with Hoop Sparx
Hoop Sparx offers online hula hoop kids classes for 5-12 year olds, led by a professional teacher and circus performer, Donna Sparx.
Learn dazzling hula hoop tricks and a hoop dance combo in a group class for $12 or a private class for a more tailored journey of incredible hula hoop fun. Build self-esteem and confidence by trying something you have never done before!
Hoop Fit And Hoop Dance - Online Hula Hoop Classes
Online hula hoop classes led by a professional teacher and circus performer. Learn dazzling hula hoop tricks and a hoop dance combo.
School Holidays
You can also join a live stream reading class for preschoolers in Melbourne. Donna's sparkling book Loopy Luna and The Hula Hoop is a playful story of a quirky and adventurous little girl with a magic hula hoop and a can-do attitude. A book about hula hoops, friendship, wild imagination, magical adventures and a girl who creates, solves problems and builds. After the reading, your kids will be invited to join in and learn some magical hoop tricks or experience a little hoop show just for them. It's a double win of literacy and physical activity!
Do you have a little girl who loves to hula hoop and reading? Or maybe you're looking for a fun and unique gift for a child's birthday? Either way, these books about the Hula Hoop are sure to be a hit!

Peggy Noodle is a girl who loves to hula hoop. She's also the world's greatest hula hooper! This book follows Peggy on her adventures as she tries to teach her friends how to hula hoop and win the big hula hooping contest. The book is perfect for ages 8 - 12 years old.

Hula Hoop Queen is a fun picture book that tells the story of a little girl who dreams of becoming a hula hoop queen. With lots of colourful illustrations and is perfect for toddlers through to 12 years old!
---
Online art classes for kids
Online art classes for kids with Art Academica School
Looking for school holiday art classes? Check out the new creative online school and kids classes start for kids 5-12 years old. Talk about artists, colour, patterns and let your imagination soar. Every month will bring a new theme and a new topic to discuss, create and illustrate.
Practice the art of illustration with 4 creative assignments and any materials you like. Join this exciting online class every Wednesday for one month.
Art Academica School - Illustration Classes For Kids
This course will serve as a creative start to prepare illustrations for kids.
School Holidays
You can also subscribe to their YouTube channel for more creative fun as it's a free resource.
---
Online yoga classes for kids
Online kids yoga classes with Little Big Warrior
Looking for kids yoga classes for school holidays? We've got you covered!
Yoga works out your whole body - physically, mentally and emotionally. It can benefit your kids by helping them build and improve their confidence, resilience, coordination, emotional and stress management and more.
With kids online classes for 3 year olds and up costing $5-10 per class, pick a suitable package for your child and enjoy the benefits of yoga with Little Big Warrior.
Little Big Warrior Online Yoga Classes
Happy Hearts. Calm Minds. Healthy Bodies. Online yoga classes for 3-12 year olds (teen classes coming soon).
School Holidays
---
Online magic, mindfulness and yoga classes for kids with Fairy Mary
Listen to Fairy Mary's stories of magic and fun adventures from popular books, while enjoying a calm and mindful journey yourself from the comfort of your home. Fairy Mary will teach kids yoga and self-calmness, self-awareness and social awareness, including breathing and relaxation techniques for preschool kids.
Kids Yoga, Mindfulness And Fairy Storytelling
Listen to engaging stories of Fairyland and beyond. Enjoy listening to some of the most popular children's books with Fairy Mary.
School Holidays
Check out Fairy Mary's YouTube channel for some of her exciting stories as it's a free resource, and stay tuned for her extensive online yoga and well-being program which will work with a subscription fee.
---
Online music entertainment and fairy school for kids
Online Fairy School with Fairy Jasmine
Learn to be a fairy from home with Fairy Jasmine! Fairy Jasmine's classes are all about expressing your beautiful self through music and dance.
Kids are encouraged to be confident, loving and kind with themselves and those around them. The classes online are interactive and held over a video call. They are personalised and custom designed by the parents.
There are several fun indoor activities to choose from, including:
Fairy singing and dancing time,
Fairy band time,
Fairy Story time,
Fairy Encouragement time,
Fairy Kindness time & Fairy Self-love time.
Perfect for kids aged 3 to 7 years old.
Fairy School With Fairy Jasmine
Fairy Jasmine's Classes Online are all about expressing yourself through music and dance and encourage kids to be loving and kind with themselves and others.
School Holidays
---
Online music entertainment for kids with Melbourne Party Princesses
Have you always wanted to meet your favourite princess? Now you can have fun, play games and sing with 2 Ice Princesses!
Bring some magic and music to the kids at home. The calls are interactive and engaging - including live singing, games and storytelling. Perfect fun dance classes for 2 years olds through to 10 years olds.
Singing And Music Entertainment By Melbourne Party Princesses
The Ice Princesses interact, play games and provide magical and musical fun for kids 2-10 years old!
School Holidays
---
While we are self-isolating, these fun online activities for your kids can be a great help to entertain them after school or on weekends. You can find even more fun online classes for kids of all age groups and abilities in our online directory.
In case you need some great online learning resources, check out these fun and educational activities. With their help, kids of all ages can learn and have fun while staying at home. And the most of the are free!
If you want to kick the boredom to the curb, check out these indoor activities your kids will love and our favourite Netflix movies for kids and families.
At schoolholidays.com.au, we have gathered kids activities on our website and provide service providers of kids classes and online activities with a listing publication. If you know someone in your community who might benefit from our outreach, let them know about this opportunity.
Don't forget to share this post with your friends and classmates to give these small Aussie businesses a massive shout out and support them during this challenging time.
Check out the Best Netflix Movies For Kids
Looking for best kids movies to watch during the weekend and school holidays? Here's top movies on Netflix to watch for kids and families.
School Holidays
---
Our website is supported by you, our reader!

Sometimes, we may earn small affiliate commission when you click through the affiliate links on this page and buy something.

If you have any question, please get in touch with us.